Insta360 Go 2 is here. Insta 360 has released the world's smallest action camera on 9th March 2021. If you have used its first model, Insta360 Go, then you might have some ideas about Go 2. If you have never owned an action camera before or you are in the market for something fresh and capture from a new perspective, this can be the perfect camera for you.
The Go 2 is the best action camera manufactured by Insta360, which offers a new way to create content as FPV, to make impressive vlogs, create TikTok or Reels, and many more.
To short brief, This camera has insane image stabilization, records 1440p video, a built-in magnet that mounts almost anywhere, and many more amazing features. There is a lot to explore in a tiny camera.
You are seeing a lot of reviews of Insta 360 Go 2 at various websites to find the perfect reason to buy this camera. We have reviewed Go 2, and here, we will discuss in-depth information about this camera from design to price. We will compare Go 2 with its first model, Insta360 Go, as well. So, after reading this article, you will have a pretty much accurate decision for the Insta 360 Go 2, such as Is it worth buying Go 2? Where can I use this camera? Etc.
Insta360 Go 2: Build & Design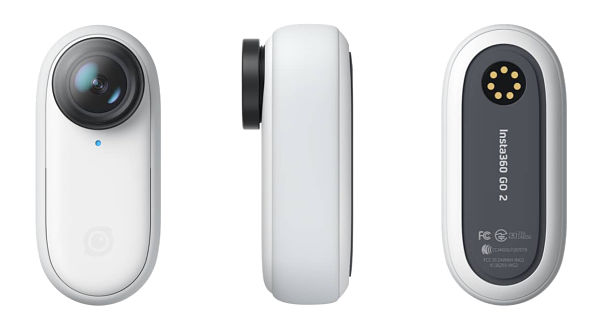 Insta360 Go 2 is small and lightweight that can fits almost anywhere. This camera's weight is 26.5 grams, and with the case, it weighs about 90 grams. You hardly notice it in your hand, or even it is mounted on the neckless magnet pendant. It is super easy to use. It can easily snap right into the sticky stand, mount wherever you want, make videos, and slide back into a protective cover.
I have seen that camera falls from the people's hand and breaks out. We know nobody does this intentionally. To prevent this, the camera offers a lens protector that can replace it if it ever gets cracked.
The build of the camera is quite tough. So, you can use it roughly and can shoot videos underwater. It is water-resistant to IPx8 and can record video up to 13 ft or 4 meters into the water.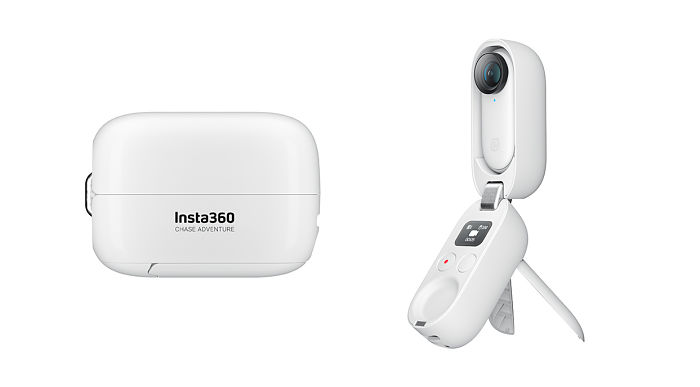 The Charge Case is very well designed, just like the Air Pods, which can easily fit in your pocket. The case is also itself wireless charging remote control, and it has a magnet, so Go 2 camera snaps and automatically recharge into it. There is a Bluetooth remote control to stop and start your video wirelessly by just connecting with the camera, also, the case has another button to manage settings.
You don't have to be a worry about transferring the data. There is a type C USB port, with the help of that, you can transfer your recorded files to your devices and charge the case. Also, there is a tripod mount in the case for a selfie stick, Gorilla Pod, or another tripod.
Insta360 Go 2: Video and Stabilization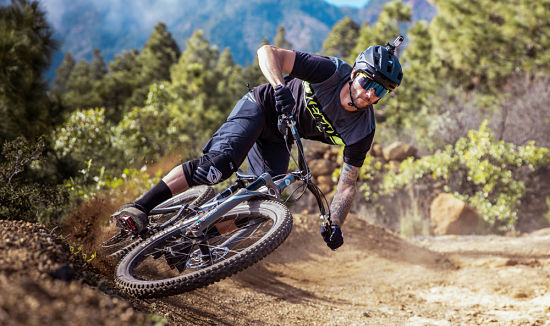 The first version of the Go can capture only 1080p, But this Insta360 Go 2 can capture 1440p with the resolution of 2560 x 1440 landscape and vice versa for vertical export. It has a wide-angle, immersive perspective, and honestly, I am very much impressed with the image quality, color grading, and dynamic range, which is perfect for the content creators.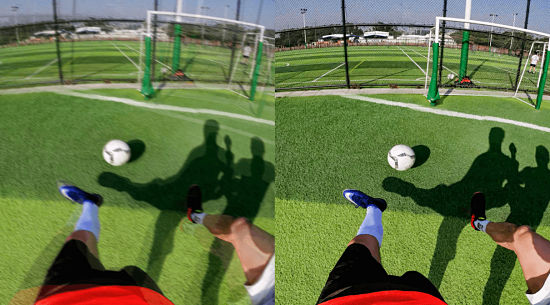 The most advanced features of the Go2 are FlowState stabilization and Horizon Lock. With these features, you can rotate, flip and swing this camera in any direction, you will get a smooth and steady angled shot as a result. Because it's a software feature, you can turn it on/off in post-production inside Adobe Premiere Pro or any post-production software. These two features combined create "Pro Mode". I can assure you that you can use this camera to shoot travel videos, vlogging, capturing sports and adventures. The camera offers fantastic video quality not only for YouTube and other social media platforms, but you can also create awesome cinematic videos.
Insta360 Go 2 comes with various video modes which allow you to create a perfect video as per your need.
FlowState Stabilization (Pro mode): 2560×1440@50fps, 30fps & 1920×1080@50fps, 30fps
Basic Stabilization (Video mode): 2560×1440@50fps, 30fps & 1920×1080@50fps, 30fps
Timelapse: 2560×1440@30fps & 1920×1080@30fps
TimeShift: 2560×1440@30fps & 1920×1080@30fps
HDR: 2560×1440@25fps, 24fps & 1920×1080@25fps, 24fps
Slow Motion: 1920×1080@120fps
One of the downsides from the video part is the lack of 4K resolution, but we have to understand a small device such as battery, heat, sensor, and cropping for stabilization. But we will be expecting this feature in the future from Insta360 Go.
Audio Quality
Insta360 Go 2 which is an action camera has an amazing video quality, but it is not enough quality at audio. In a quiet area or less noisy area, it sounds perfectly amazing. But, it is dreadful in windy.
FPV Mount / Mount Anywhere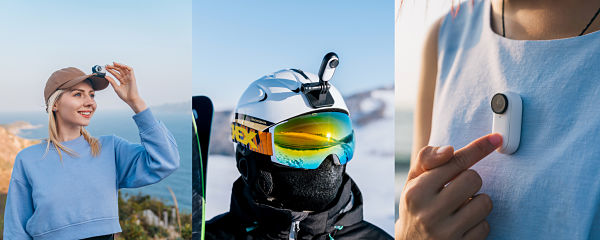 Insta360 Go 2 is so tiny that can be mount with no trouble anywhere. You can it mount on your Hat, Helmet, Drone, on the chest by Magnet Pendant to create a fantastic POV video. You can mount for rope climbing, hiking, bike riding, car driving, and etc. It depends on your creativity, how creatively you create a shot.
Insta360 Go 2: Amazing photo resolution
However, this camera is made for photo clicking, it has a 9 MP resolution that captures photos in two different modes of DNG and INSP. DNG clicks the toned mapped HDR look with impressive dynamic range, and INSP clicks a good nature and realism tone.
You cannot compare this camera with any other smartphones or any DSLR cameras, Because they have more pixels than Go 2. Still, this camera has Interval, Starlapse, Night Shot modes.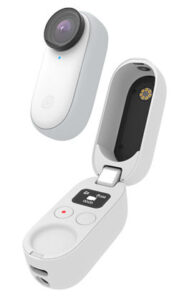 Insta360 Go 2 Battery Life
The Insta360 Go is nothing without its charging case. The battery life of this product has been improved. It has equipped with a 1,100mAh battery that can charge Go 2's 210 mAh battery four times. The recording time of the Go 2 has 120 min with the case, but outside of it, the Go 2 can last up to 30 min which is longer than its old-gen model. To get fully charged, Go 2 takes up to 35 min, and the charging case takes up to 60 min.
Insta360 Go 2 vs Go (Quick Comparison)
Insta360 Go 2 is quite different than its old model Insta360 Go.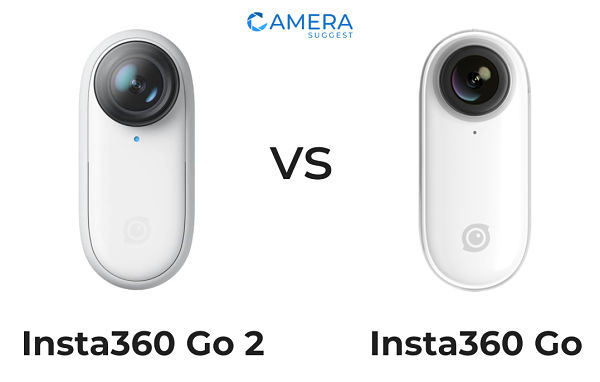 The original Go one had a small charging case that needs to plug-in directly into your phone to transfer/play the files. But in the Go 2, you can connect it with any device with the help of wi-fi which allows you seamless file transfer, edit, and share.
The Go one's Maximum clip length is 5 min which is way smaller than Go 2.
The charging case of Go 2, You can use it as a remote control to access the Go 2 camera. You can change the mode, start / stop recording with the case as a wireless remote control. But there is nothing like this in Go 1.
The maximum resolution of the Insta360 Go is 1080p. Now, Go 2 has 1440p, which is 2K resolution which is fantastic for an action camera.
The Battery life is enhanced than its old model.
Overall,
Insta360 Go 2 is a powerful tiny action camera, that has a lot more improvement than its first-gen model Insta360 Go. Along with the camera, you will get a charging case, cable, magnet pendant, easy clip, pivot stand, and quick smart guide at a $299.99 price. This is a good wearable camera. If you live an adventurous life, and you want to take any burden off a heavy SLR camera, then the Insta360 Go 2 is worth considering.
Insta360 Go 2 has improved image quality, better accessories, lightweight, waterproof, and enhanced video modes. This is the best camera for those who create short videos for social media and more.
I hope this review gives some decision to buy this camera. Create your amazing shots and send us your best shot/video, we will post it on our website.
Have a good day!
Check out this article:
Camera Suggest is supported by its audience. When you purchase through links on our site, we may earn an affiliate commission. Learn more