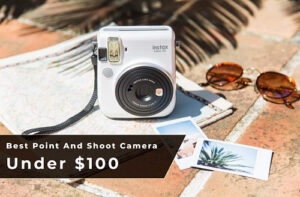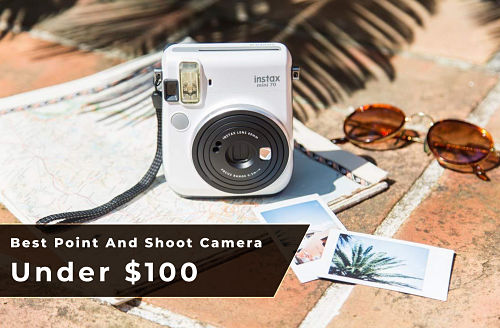 The best point and shoot camera under 100 dollars segment is an entry-level segment aimed at consumers who predominantly shoot with their smartphones. In the world of DSLR and portrait mode smartphones, it might be a surprise to see people looking for point and shoot cameras.
But since the last decade, the digital camera industry has uplifted their game to the next level by giving the maximum number of features packed in less price. Also, sometimes, you want something more than a smartphone, but at the same time, you do not want to pack all your lens bags for the bulky DSLR. Or maybe you are planning to gift your little one with their first camera but do not want to spend a fortune on that.
So after knowing all the goods and bads of buying the cheap cameras, you can conclude whether these cheap digital cameras under $100 are for you or not. I am sure you will get the best one.
An easy for you, we have picked the hot pick camera if you are in a hurry which has very good resolution sensor with high definition video recording features.
Hot Pick of Best Point and Shoot Camera Under 100 USD
20.0MP – High-Resolution Sensor
Face Detection Focusing
Optical Image Stabilisation
720p HD video recording
5cm macro focus
360 sweep panoramic
We have gathered a list of best point and shoot cameras under 100 dollars for you to help you choose the best and make your decision easier.
---
10 Best Point And Shoot Camera Under 100 USD [Editor's Picks]
Sony (DSCW800)

Best Entry-Level Point And Shoot Camera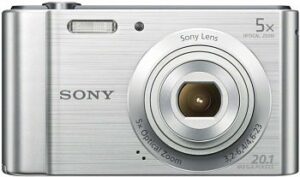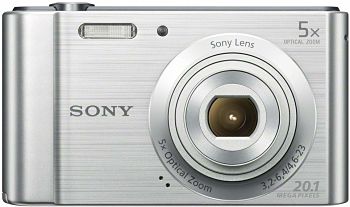 Are you in search of a camera with good megapixels but have a limited budget that cannot exceed more than 100$?
If yes,
Then Sony (DSCW800) is the best option when you have decided to go with a cheap point and shoot a camera under $100. Even with the battery and memory card, The camera still weighs the lightest among all the other point and shoot cameras with the only 125g of mass.
You can take clear and crisp pictures. The camera can zoom in with its 5x optical lens and still manages to capture breathtaking images without losing any details. For anyone taking photos in low-light and trying to capture the night beauty, Sony offers an AF assist lamp that can help the camera in capturing and producing better results.
You can take 200 shots by charging the battery once. We would recommend you keep a spare battery with you, especially if the camera is to used for outdoor adventures or long travel. Unfortunately, there is no WIFI available in the camera, but for the point and shoot camera coming with so many features at a minimum price, this covers everything up. If you are someone who hates the hassle of finding the menu options, there is also an accessible mode that can activate with just one click.
Specifications of Sony (DSCW800)

Type
Compact
Megapixels
20.1 MP
Sensor Size
1/2.3 inch CCD
Lens Type
5X zoom (26-130 mm eq.) f/3.2-6.4
Screen
2.7 Inch 230K dots
ViewFinder
Digital
Max Burst Speed
1 fps
Max video resolution
1280 x 720p
Dimensions
97 x 55 x 21 mm
Weight
125 g
Fujifilm Instax Wide 300 Instant Film Camera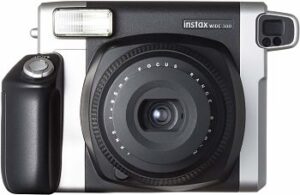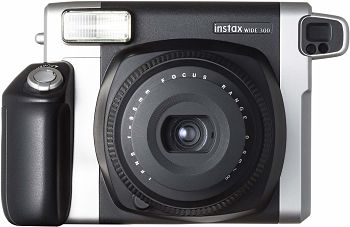 The lightweight Instax 300 instant film is what many travelers would love to choose since you just got to strap it up, and you are on the go.
The camera takes pictures much quicker than its family members. It comes with accessories, including a clip-on lens as well.
It allows you to take close-ups without losing any details or having blurriness in the picture. The images turned out to be surprisingly sharper for a standard Instax camera within this price range.
If you are a sunset or sunrise lover, this is the best choice for you since with Fujifilm Instax Wide 300 the bright scenes are a pleasure to capture.
Specifications of Fujifilm Instax Wide 300 Instant Film Camera

Type
Instax Wide
Picture Size
62 x 99 mm
Lens Type
95 mm f/14
ViewFinder
Optical approx. 0.37x
Film Size
86 x 108 mm
Dimensions
167.8 x 94.7 x 120.9 mm
Weight
612 g
Nikon COOLPIX A10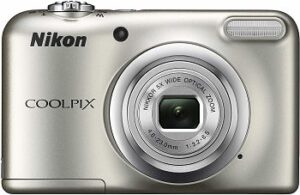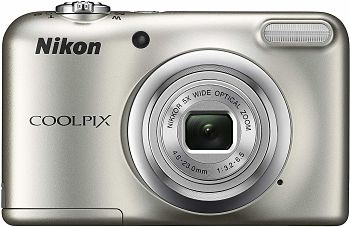 The Nikon camera that has been in headlines because of its cheap price, Nikon COOLPIX A10 does not compromise on its quality. Where so many points and shoot cameras are going for Li-ion batteries, Nikon gives ease of using AA batteries. This feature is a piece of excellent news for someone who is looking for the best digital camera under 100 dollars to take for extended travel plans.
COOLPIX can manage to take 700 shots on a single battery, which is pretty cool for any casual photographer who cannot afford to change batteries now and then.
Our clumsy fellows might feel the need for a rubber-coated structure, but with the extremely light A10, you can never let it slip through your hands.
Another amazing feature in the camera is its Smart Portrait System, which allows face detection. So it is easier for the photographer to take perfect photos that are blink-proof since the camera notifies when someone is blinking. No matter how low the lighting is, A10 tries to capture and produce the best possible results.
When shot close-ups, maximum detail captured, which can be easily zoomed in without any noise. For someone looking at a cheaper option to take casual photographs for fun can keep COOLPIX A10 as a choice for sure.
Specifications of Nikon COOLPIX A10

Type
Compact
Megapixels
16.1 MP
Sensor Size
1/2.3 inch CCD
Lens Type
5x zoom (26-130 mm eq.) f/3.2-6.5
Screen
2.7 Inch 230k Dots
ViewFinder
Digital
Max Burst Speed
1.2 fps
Max video resolution
1280 x 720p
Dimensions
96.4 x 59.4 x 28.9 mm
Weight
160 g
Sony DSCW830

Best Overall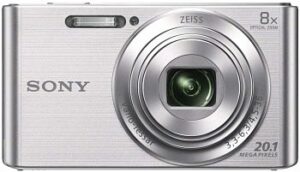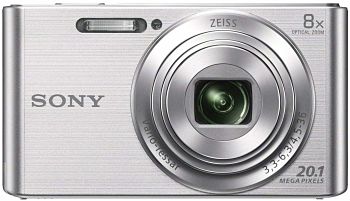 Sony comes with another lightweight point and shoot the camera at a cheap price, Sony DSCW830. Due to its small and sleek body, It can be easily fit into your pockets.
The camera supports a USB cable battery that can even be charged directly with your PC or tablets. When the lightning isn't favorable, but you cannot stop yourself from capturing the fantastic memories, the camera allows you to take decent pictures with its built-in-flash within few seconds.
If you are out for some street or sports photography, the shake reduction helps to stabilize the image and remove the blurriness. The camera can also be used to capture some decent portraits with clear and crisp image quality. It supports NP-BN lithium-ion rechargeable battery but also contains USB connectivity, which allows you to recharge the camera from your laptops as well.
When looking at the features, you should keep in mind that the point and shoot camera is providing all this under just 100$, and it should not be compared with a DSLR. If you are about to start photography or want to capture and upload some memories in good quality on your social media, then Sony DSCW830 is the right choice for you.
Specifications of Sony DSCW830

Type
Compact
Megapixels
20.1 MP
Sensor Size
1/2.3 inch CCD
Lens Type
8x zoom (25-200 mm eq.) f/3.3-6.3
Screen
2.7 Inch 230k Dots
ViewFinder
Digital
Max Burst Speed
1 fps
Max video resolution
1280 x 720p
Dimensions
3.67 x 2.07 x 0.89 In
Weight
121.91 g
Digital Vlogging Camera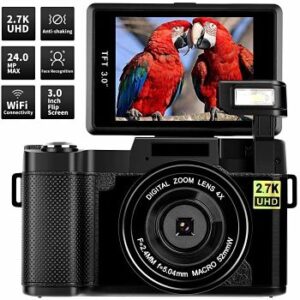 It might be an entry-level camera for many users, but for some, the Digital Camera Vlogging Camera is everything you need. Be it a family gathering or an adventure hike with your friends. This camera always comes handy. Because of its 180 degrees flipping screen, it can be great fun to do vlogging with it.
The lightweight and easy to carry to the design of the camera allow it to count in compact cameras. The sturdy and robust body structure makes it easy to take it to any adventure like rock climbing, binge jumping, or a mountain hike with your fellows.
To make sure none of your clicks are distorted, there is an added feature of face detection, allowing you to capture perfect moments.
For this price, you might not be expecting amazing quality photos or videos, but the Digital camera vlogging camera provides you with 2.7K resolution for remarkable user experience. It is as easy as ABC to upload your flashes online and share it with your friends with the Wi-Fi and USB portal.
If you are looking to gift someone there the first camera but don't want to spend a fortune, then this YouTube camera is the best for you to get.
Fujifilm Instax Square SQ6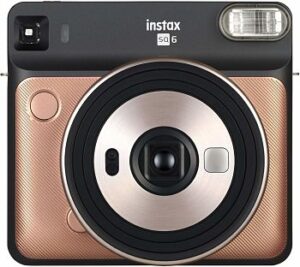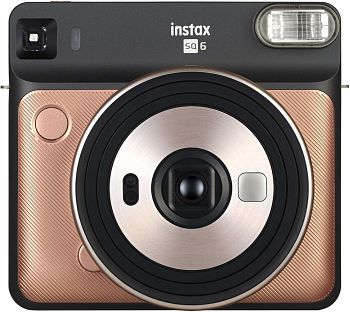 We can't help it but add another Fujifilm Instax camera in the list of the best point and shoot camera under 100 USD. Fujifilm has worked a lot on giving its clients the best under without spending much.
The first analog camera that can capture square format pictures, unlike its ancestors which could only produce mini-sized photos. With their new stylish and fun looking Instax Square SQ6, you can capture your beautiful moments. Though it is a bit bigger than its other family members, you can easily slide it in your handbags or attach a strap to get a better grip.
The camera comes with three filters; orange, green, and brown, that can be attached to the camera for making the boring pictures a little fun and interesting. The Auto mode allows you to get rid of the hassle of setting up the camera before clicking your candid party pictures.
It also has a selfie mode that can be activated and can capture great self-portraits. For jumping in the groupies or not missing out on taking self-portraits in front of a historical building, you can choose the 10 seconds self-timer. If you are looking for anything to have fun with or capture great images to post on your Instagram or social media, SQ6 is your top choice.
Specifications of Fujifilm Instax Square SQ6

Type
Instax square
Picture Size
62 x 62 mm
Lens Type
65.75mm f/12.6
ViewFinder
Optical Approx. 0.4x
Dimensions
118.7 x 128.1 x 58.1 mm
Weight
393 g
Kodak PIXPRO Friendly Zoom FZ53-BK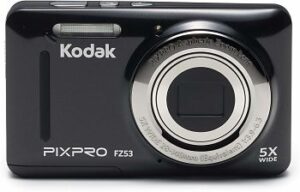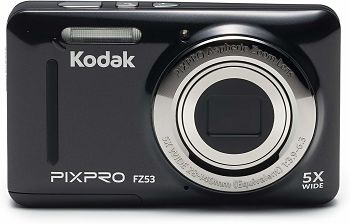 The best and most reasonable choice for a casual photographer who loves posting classy pictures on social media or printing them. Because of Its lightweight and small body, you can easily put it in your pocket and carry it away without any hassle.
Whether you love to capture close-ups or want to take wider images, the Kodak lens can do it all. Along with the 5x lens, the camera also offers a feature of auto-detection. Gone are the days when you had to press on the face for detection, now PIXPRO makes it easier for you to take flawless photos without anyone blinking in pictures.
Sometimes capturing moments with photos does not seem to be enough. So, the camera allows the users to capture high-quality videos at 720p HD to never miss any chance of saving memory.
We would not consider it as an entry-level camera because of its ability to capture photos equivalent to a professional camera. If you are planning to start a career in photography or just trying to take some photography classes and needs a camera for submitting your assignments, then Kodak will be your best digital camera under 100 dollars.
Specifications of Kodak PIXPRO Friendly Zoom FZ53-BK

Type
Digital Camera
Megapixels
16.15 MP
Sensor Size
1/2.3 inch CCD
Lens Type
5x zoom (28-140 mm eq.) f/3.9-6.3
Screen
2.7 inch 230K dot
ViewFinder
Digital
Max Burst Speed
Yes
Max video resolution
1280 x 720p
Dimensions
91.5 x 56.5 x 22.6 mm
Weight
106 g
Nikon COOLPIX L32 Digital Camera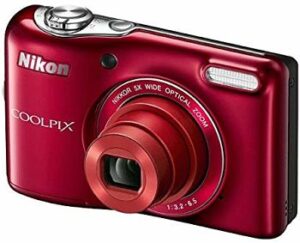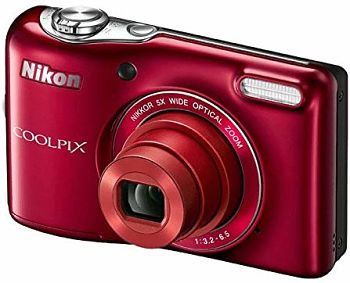 Announced at the start of 2015 by Nikon, The COOLPIX L32 camera is a perfect fit for someone who does not want to go into complex user experience but at the same time love to capture good quality pictures with pleasing colors.
Nikon has tried to compact the camera with all the features for a low price for every group of ages to use and enjoy. The camera supports AA batteries which can be easily changed when used. With its 5x optical zoom lens, you can capture anything no matter how far you are standing from the object.
With 16.MP it not only captures excellent quality images but also lets you record videos at 720p HD which is even decent enough for you to upload on the web. With this, you don't have to worry about setting modes or choosing your manual settings. The Easy Auto mode allows you to take perfect pictures with perfect exposure and quality.
There is also a smart portrait mode that can detect and alert you with any red-eye or blurriness while capturing. However, before you are taking it to your adventure trips or are afraid you would not be able to keep the camera stable, prefer taking a tripod with you to stabilize the images.
Specifications of Nikon COOLPIX L32 Digital Camera

Type
Compact
Megapixels
20.1 MP
Sensor Size
1/2.3 inch CCD
Lens Type
5x zoom (26-130 mm eq.) f/3.2-6.5
Screen
3 Inch 230k dots
ViewFinder
Digital
Max Burst Speed
1.1 fps
Max video resolution
1280 x 720p
Dimensions
95 x 60 x 29 mm
Weight
164 g
Fujifilm Instax Mini 70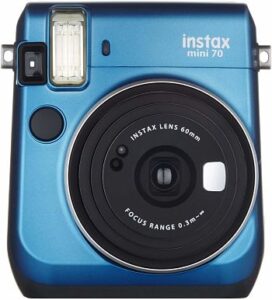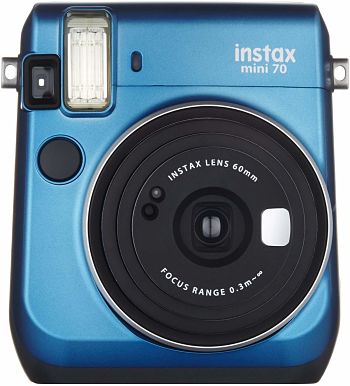 The sibling of Mini 8 and Mini 9, Fujifilm Instax Mini 70 was released in 2015 by Fujifilm as a mid-range camera. It has a very settled body with sleek edges that make it look like any other expensive camera.
However, if you are looking for something that must adjust in your pocket, you might have to compromise a bit by attaching the camera with a strap because it is a little bigger than the other compact cameras in the market.
Unlike other Instax, Mini 70 also comes with the ease of capturing not just your fellows but also yourself. The mini selfie mirror can be used to adjust the camera in selfie mode and make a self-portrait. The self-timer makes it easy to add yourself in group photos or capture your solos when there is no one to take your pictures.
If you are looking for an Instant camera but avoid buying it just because either they are too expensive or too toy looking for you to take anywhere, then the sleek and mature Mini 70 is the best cheap camera for you to spend your bucks on.
Specifications of Fujifilm Instax Mini 70

Type
Instax Mini
Picture Size
62 x 46 mm
Lens Type
60 mm f/12.7
ViewFinder
Approx. 0.37x
Film Size
86 x 54 mm
Dimensions
99.2 x 113.7 x 53.2 mm
Weight
281 g
---
Final Words
The wrap up on the best point and shoot cameras under $100 is that It uses 4 AA batteries, but if you are going for a longer trip, we would suggest you keep spare batteries and films along with you to avoid inconvenience. The camera should not be shaken a lot while taking a picture since the image stabilization is not as active here and might ruin your picture.
You might need to read the manual or experiment a little with the camera before you take it out to capture the best pictures. For the cheap price, Fujifilm Instax Wide 300 Instant Film Camera is the best constant film camera and cannot be included in the list of rest of the polaroid cameras.
Are you planning to get your first point and shoot camera or want to change and try a new one for a cheap price? After reading this guide, we can assure you that you will not go wrong with your decision. However, there a few things that you must check even when you are spending as little as $100 on a camera. The must-have features include a sturdy body with a strap in the accessories box, especially if the size of the camera is not compact like some of the Fujifilm Instax cameras. Moreover, the other is battery availability. There is no point in buying a camera if finding its battery is havoc.