Are you searching for a budget-friendly camera or desiring to be an expert photographer with a top-notch camera? You don't need to spend much on equipment to capture stunning photos. Finding the best point and shoot camera under $100 in today's market will allow you to capture memories that will last a lifetime without spending many dollars.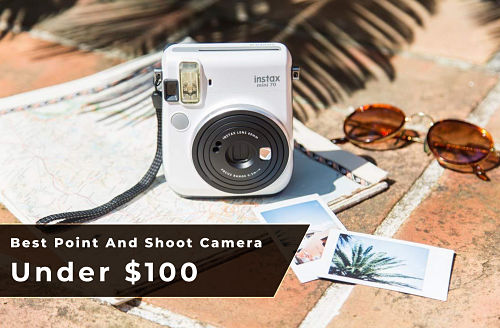 This article is your one-stop destination for exploring the best digital cameras under your budget. Whether you're starting your photography journey or need an affordable option for those random photos, we've got you covered.
These entry-level cameras are crucial in breaking the barrier of photography for those who may be intimidated by the cost of high-end equipment and allow aspiring photographers to unleash their creativity without breaking the bank by offering user-friendly features and decent image quality. So, let's jump right in and explore our selection of the best cameras under $100, right?
For now, If you are in a hurry,
We have picked the top two cameras which has excellent performance, great build quality, and awesome result among all the best point and shoot cameras under $100.
We have gathered a list of the best cameras under $100 for you to help you choose the best and make your decision easier.
Best Point and Shoot Camera under $100 [Expert's Pick]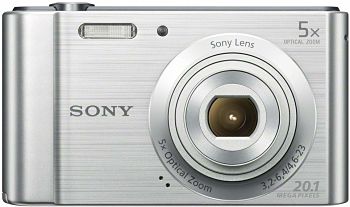 The Sony (DSCW800) is the best option when you have decided to go with a cheap camera. Even with the battery and memory card, The camera still weighs the lightest among all the other digital cameras with only 125g of mass. Well Sony W800 doesn't have any weather sealings, so you have to be extra careful when using it against dust and rain/water.
Sony W800 comes with 20.0MP 1/2.3″ CCD sensor so you can take clear and sharp pictures. The camera can zoom in with its 5x optical lens and still manages to capture breathtaking images without losing any details. The lens can take a great wide-angle photo with 26mm and can cover telephoto angle with 130mm with the aperture of f3.2 to 6.4 respectively. For those who love photography in low light and trying to capture the night beauty, Sony offers an AF assist lamp that can help the sensor in capturing and produce better results.
Capture the best moment at the highest resolution of 1280 x 720 at 30p fps. Although it is quite low resolution nowadays you can check out the best 4k camera in your budget.
Unfortunately, there is no WIFI available in this particular camera, but it is coming with so many features at a minimum price, this covers everything up. If you are someone who hates the hassle of finding the menu options, there is also an accessible mode that can activate with just one click.
Built-in flash, built-in microphone, and speaker are very good to take photos and videos. You can take 200 shots by charging the battery once. We would recommend you keep a spare battery with you, especially if the camera is to use for outdoor adventures or long travel.
---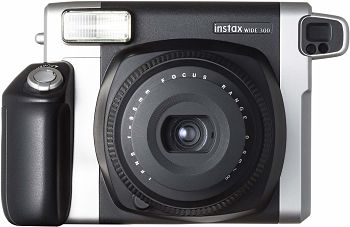 The lightweight Instax 300 instant film is what many travelers would love to choose since you just got to strap it up, and you are on the go. However, it is quite big and chunky, so you can easy to go on long trips with this.
For the lens, Fujifilm Instax Wide 300 offers two different settings to operate for distances. One is 3 to 10 feet when the camera is powered on and another is 10 feet to infinity. The camera takes pictures much more quicker than its family members. It comes with accessories, including a clip-on lens as well that brings the focus down to 1.3 feet (0.4 meters), so you can play in close focal range.
It allows you to take close-ups without losing any details or having blurriness in the picture. The images turned out to be surprisingly sharper for a standard Instax camera within this price range. If you are a casual photographer who is happy with basic exposure control and snaps photos like home light exposure then this camera is for you.
One downside of this instant film camera which I found is the "Flash". It does not have a flash ON/OFF button, which always stays on. It automatically turns on where it feels the low light enhances the image but I feel it is moderately frustrating.
If you are a sunset or sunrise lover, this is the best choice for you since with Fujifilm Instax Wide 300 the bright scenes are a pleasure to capture.
Tips:
After clicking the picture by Wide 300, Don't shake the film like other polaroid camera film.
If you want to write something on your image, use only a permanent marker and leave it for a while. If you do not follow these tips, it will ruin your photos.
---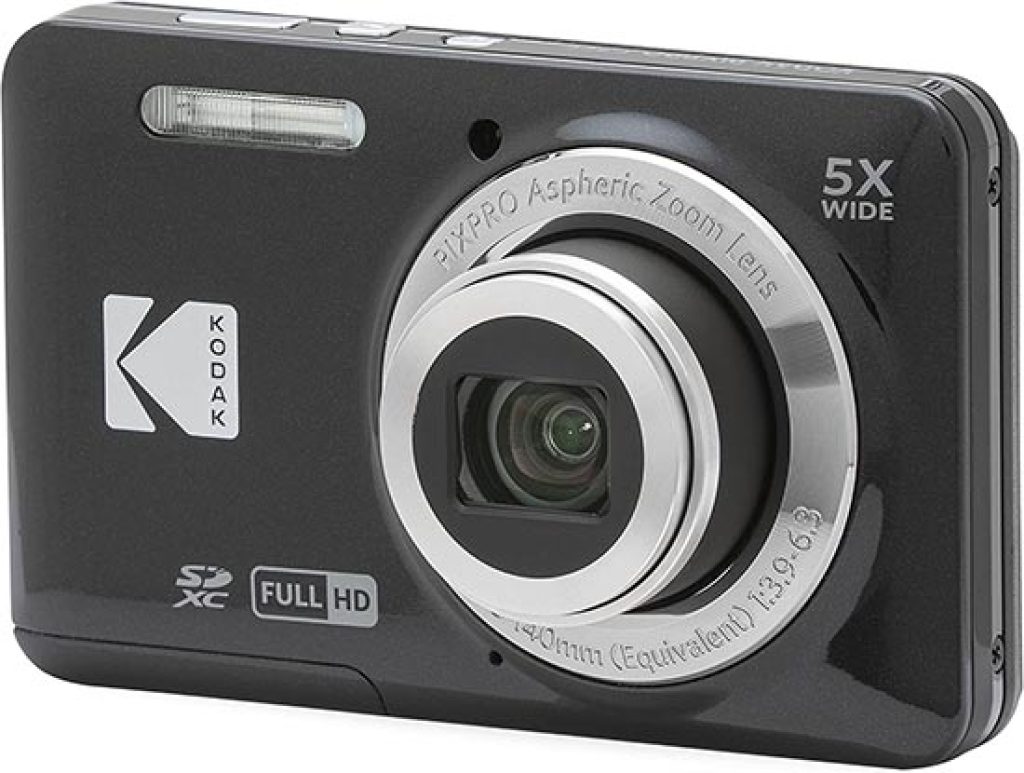 Are you looking for a camera that's easy to use, takes great photos, and won't break your budget? Look no further than the KODAK PIXPRO Friendly Zoom FZ55-BK! This feature is a piece of excellent news for someone who is looking for the best digital camera under $100 to take for extended travel plans.
With 16 megapixels and 5x optical zoom, this camera packs a punch in a compact size. It's perfect for capturing all of life's special moments, whether you're on vacation, at a family gathering, or just taking a stroll in the park.
But wait, there's more! The FZ55-BK also has a variety of fun and useful features, such as face detection, panorama mode, and even a built-in selfie mirror. And with 720p HD video recording, you can capture memories in motion as well.
And let's talk about how easy it is to use. The camera's friendly interface makes it a breeze to navigate, even for those who aren't tech-savvy. Plus, the rechargeable battery means you won't have to worry about constantly replacing batteries.
Overall, the KODAK PIXPRO Friendly Zoom FZ55-BK is a fantastic choice for anyone who wants a reliable, affordable camera that delivers great results. So what are you waiting for? Snap one up today and start capturing those memories!
---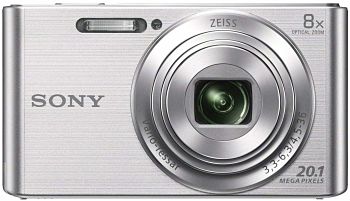 Sony comes with another lightweight camera at an affordable price, Sony DSC W830. Due to its small and sleek body, It can be easily fit into your pockets. W830 is an ultracompact camera of plastic body with metal effect, features a Zeiss branded 8x optical zoom lens which range is 25 – 200mm F3.3 – 6.3 aperture, built-in stabilization, On the back, there is a 2.7-inch 230k dot LCD screen that is located on the left, and the controllers are given to operate on the right side. There are three modes of shooting; Camera, Panorama, and video. You can directly go to your particular mode by sliding the mode.
Sony W830 has a 20.0MP 1/2.3″ CCD sensor and features a Bionz processor. You can shoot at a maximum resolution of 5152 x 3864 pixels with aspect ratios of 4:3 and 16:9. When the lightning isn't favorable, but you cannot stop yourself from capturing fantastic memories, the camera allows you to take decent pictures with its built-in flash within a few seconds.
The lens gives you very good wide-angle capability starting at 25mm and it reaches 200mm on a telephoto angle giving a complete package your needs. If you are out for some street or sports photography, the shake reduction helps to stabilize the image and remove the blurriness. The camera can also be used to capture some decent portraits with clear and crisp image quality.
Sony DSC W830 shoots HD video at 1280 x 720 resolution with 30 frame rates. For a point-and-shoot compact, the W830 offers a variety of movie settings such as exposure, white balance, etc. Also, it has two levels of stabilization. However, lacking a 1080p resolution, the W830 is one of the best cameras available for $100 for video.
This camera has a contrast detection autofocusing system as well as face detection AF where it detects the face and locks auto-focus.
The Sony Cyber-shot W830 doesn't have any connectivity features like Wi-Fi or NFC options but is one of the cheapest compact cameras with optical image stabilization. It supports NP-BN lithium-ion rechargeable USB cable battery that can even be charged directly with your PC or tablet.
---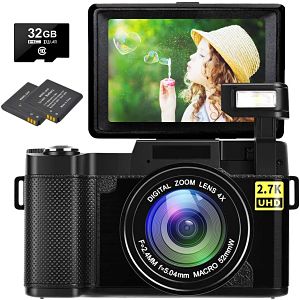 It might be an entry-level camera for many users, but for some, this Vlogging Camera is everything you need. Be it a family gathering or an adventure hike with your friends. This camera always comes in handy. Because of its 180 degrees flipping screen, it can be great fun to do vlogging with it.
The lightweight and easy-to-carry design allows it to count in compact cameras. The sturdy and robust body structure makes it easy to take it to any adventure like rock climbing, binge jumping, or a mountain hike with your fellows.
To make sure none of your clicks are distorted, there is an added feature of face detection, allowing you to capture perfect moments.
For this price, you might not be expecting amazing quality photos or videos, but the Digital vlogging gear provides you with 2.7K resolution for a remarkable user experience. It is as easy as ABC to upload your flashes online and share them with your friends with the Wi-Fi and USB portal.
If you are looking to gift someone(content creator), but don't want to spend a fortune, then this YouTube camera is the best for you to get.
---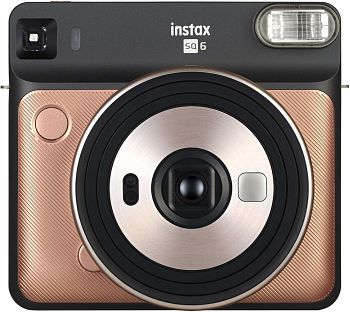 however Instant photography has come back in popularity lately, yet It's been tough to get original polaroid quality photos. But with help of Fujifilm Instax Square SQ6, you can get something similar polaroid to the original polaroid.
The first analog camera that can capture square format pictures, unlike its ancestors which could only produce mini-sized photos. Like Instax Mini format, there is no screen on the back, no internal memory, all compositions are done with the optical viewfinder. SQ6 uses a pair of CR2 batteries that can take about 300 pictures.
SQ6 has fully automatic exposure and it adjusts the shutter speed on a much greater range. It will set the aperture for you electronically. With their new stylish and fun-looking Instax Square SQ6, you can capture your beautiful moments. Though it is a bit bigger than its other Instax family, you can easily slide it into your handbags or attach a strap to get a better grip.
Well, you don't have to put the clip-on to that to get closer to anything you want as Instax wide 300, adjusts the focus range electronically.
Unlike Instax wide 300, you can get the flash ON/OFF button. It comes with three filters; orange, green, and brown, that can be attached to the camera for making the boring pictures a little fun and interesting. The Auto mode allows you to get rid of the hassle of setting up the photography gear before clicking your candid party pictures.
It also has a selfie mode that can be activated and can capture great self-portraits. For jumping in the groupies or not missing out on taking self-portraits in front of a historical building, you can choose the 10 seconds self-timer. If you are looking for anything to have fun with or capture great images to post on your Instagram or social media, SQ6 is your top choice.
If you are a great fan of Fujifilm and love polaroid photographs then you should definitely go with this best point and shoot camera under $100. Fujifilm has worked a lot on giving its clients the best without spending much.
---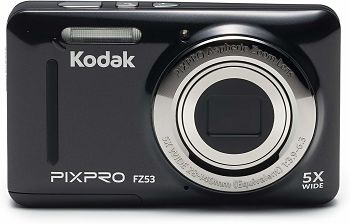 The best and most reasonable choice for those photographers who loves posting classy pictures on social media or printing them. Because of Its lightweight and small body, you can easily put it in your pocket and carry it away without any hassle. The body is made of plastic, on the front side you can get various colors with a silver metal ring around the lens, and the back of the camera is fully black.
The lens has 28 – 140mm with f/3.9 – 6.3. Whether you love to capture close-ups or want to take wider images, the Kodak lens can do it all. Along with the 5x lens, the camera also offers the feature of auto-detection. Gone are the days when you had to press on the face for detection, now PIXPRO makes it easier for you to take flawless photos without anyone blinking in pictures. Kodak Zoom FZ53-BK has digital stabilization, but it ends up blurry handheld images when zoomed in.
However, it has manual control, yet unlike an SLR, you won't get full control on this camera, but you can brighten or darken scenes using EV compensation, adjust the ISO sensitivity, and set the shutter as well to take a long exposure.
You can get multiple shooting modes including Auto, Manual, Panorama, Sports, Anti-shake, Portrait, and other 20 different scene modes. I like this action camera because it has Fast action shooting mode, with the help of this you can have a steady and clear shot of fast-moving objects.
Sometimes capturing moments with photos does not seem to be enough. So, the Kodak Zoom FZ53-BK allows users to capture high-quality videos at 720p HD with 30fps to never miss any chance of saving memory. We tested the highest video resolution; the result was not as good as we compare the quality. It performs very well in a bright area, but in dark or in low light, you can get noisy and grainy results.
There is a USB port to charge your camera's battery. You are able to snap about 200 photographs on a single fully charged battery.
We would not consider it an entry-level camera because of its ability to capture photos equivalent to a professional level. If you are planning to start a career in photography or just trying to take some photography classes and need something for submitting your assignments, then this Kodak is one of the best Point and Shoot cameras under $100.
There is no Wi-Fi, a feature you expect to see in every DSLR and mirrorless camera nowadays. This is the best camera under $100 as you can get limited features in it. If you want Wi-Fi or NFC and some other useful features that every photographer wants at the beginner stage like a viewfinder as well as screen, high Megapixels, etc., then you must check the best cameras under $300 or if you have a very good budget then you should definitely check the best cameras under $500.
---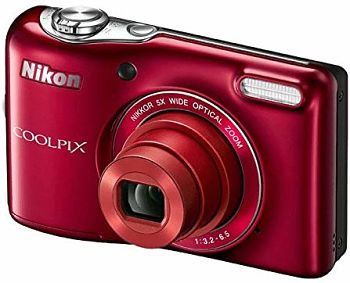 Announced at the start of 2015 by Nikon, The COOLPIX L32 is a perfect fit for someone who does not want to go into a complex user experience but at the same time loves to capture good quality pictures with pleasing colors.
The Nikon COOLPIX L32 is a compact camera with a plastic body that comes with a 5x optical zoom lens on the front and a fixed 3″ LCD screen with a resolution of 230k dots and physical controls as well on the back.
With its 5x optical zoom lens and 1/2.3" CCD sensor, you can capture anything no matter how far you are standing from the object at a max resolution of 5152 x 3864 pixels. It doesn't have RAW file support. Despite, having a lack of a viewfinder, the screen is more visible in bright light.
There is a smart portrait mode that can detect and alert you with any red-eye or blurriness while capturing. However, before you are taking it on your adventure trips or are afraid you would not be able to keep your Nikon stable, prefer taking a tripod with you to stabilize the images.
With 20.1MP it not only captures excellent quality images but also lets you record videos at 720p HD which is even decent enough for you to upload on the web. With this, you don't have to worry about setting modes or choosing your manual settings. The Easy Auto mode allows you to take perfect pictures with perfect exposure and quality.
Nikon has tried to compact the camera with all the features for a low price for every group of ages to use and enjoy. It supports AA batteries which can be easily changed when used. If you just want or need a compact with a battery-powered camera, then the L32 should be a perfectly fine choice when you are considering the best digital camera under $100.
---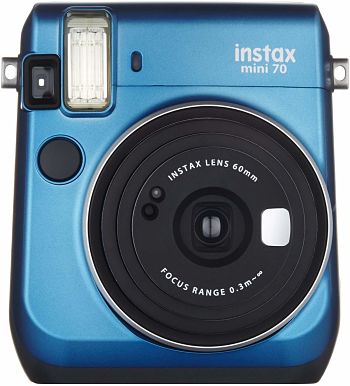 The sibling of Mini 8 and Mini 9, the Fujifilm Instax Mini 70 was released in 2015 by Fujifilm as a mid-range film camera. It has a very settled body with sleek edges that make it look like any other expensive camera.
However, if you are looking for something that must adjust in your pocket, you might have to compromise a bit by attaching the camera with a strap because it is a little bigger than the other compact cameras in the market.
Unlike other Instax, Mini 70 also comes with the ease of capturing not just your fellows but also yourself. The mini selfie mirror can be used to adjust in selfie mode and make a self-portrait. The self-timer makes it easy to add yourself to group photos or capture your solos when there is no one to take your pictures.
If you are looking for an Instant film camera but avoid buying it just because either they are too expensive or too toy-looking for you to take anywhere, then the sleek and mature Mini 70 is one of the best Point and Shoot cameras under $100.
---
Final Decision
After reading this guide, we can assure you that you will not go wrong with your decision. However, there are a few things that you must check even when you are buying the best camera under $100 and must-have features include a sturdy body with a strap in the accessories box, especially if the size of the camera is not compact like some of the Fujifilm Instax cameras. Moreover, the other is battery availability. There is no point in purchasing if finding its battery is havoc.
I would recommend Nikon COOLPIX L32 and Sony DSC W830 as it has the best performance, you can take them anywhere for your photography. These would be the best point and shoot cameras under $100 compared to others.
These types of cameras use 4 AA batteries, but if you are going for a longer trip, we would suggest you keep spare batteries and films along with you to avoid inconvenience. It should not be shaken a lot while taking a picture since the image stabilization is not as active here and might ruin your picture.
You might need to read the manual or experiment a little with the camera before you take it out to capture the best pictures. For the cheap price, Fujifilm Instax Wide 300 an Instant Film Camera is the best constant film camera and cannot be included in the list of the rest of the polaroid cameras.