Before we get into security camera installation, in the previous article we comprehensively discussed what exactly Security Camera Systems are. From their working functionalities to applications, everything was discussed deeply in that article (Best Security Camera Systems), and we're glad that you guys found it valuable.
Now, it was a must that once you stumble across reading it, you'd want to buy one Security System for yourself, and then, you'd want to install it.
But the question is, How can I install security cameras myself?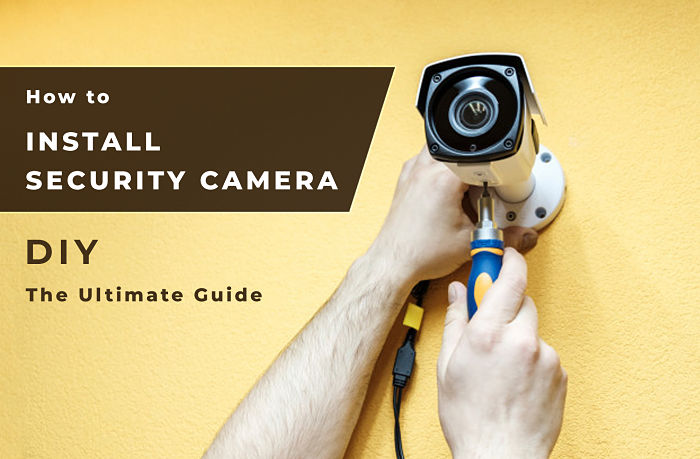 Well, the good news is that this article will tell you everything you need to know in order to set up a Security Camera System yourself, or if it's not your cup of tea. From the required tools, the actual steps, a little about the product itself to even the most Frequently Asked Questions, we got everything on the table so that you don't have to waste your time trying to find the ultimate conclusions on various websites. All you need to do is sit back, relax and give this article a nice-n-tight read.
Oh, & By the way, if you haven't already checked out our previous article, where we also curated a list of some of the best security camera systems in 2021, we insist you give it a read first, and then, come back here to attain further enhanced clarity and our primal subject of this article. Nobody's got time to waste, so let's jump straight into the facts.
What are the Security Cameras: Wired & Wireless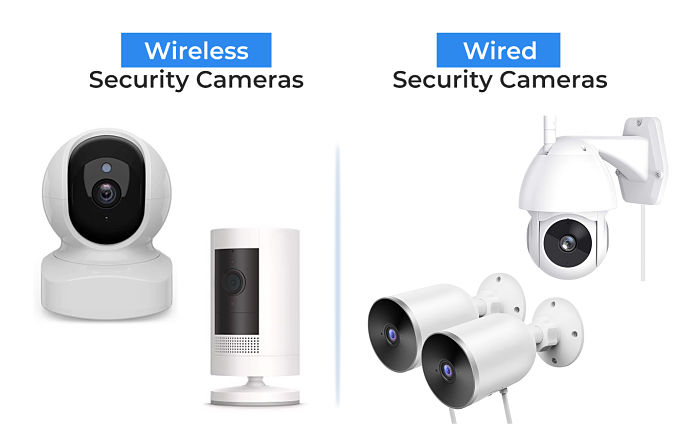 These gadgets have been around for a while, yes, but now they're not typically what they used to be in the early 2000s'. With the intense revolutionary technologically advanced changes we underwent in the previous years and decades, a lot has been changing, affecting our one-and-only Classic Security Systems as well.
There used to be a time when these things weren't 100% computer monitored, and it was close to impossible to configure and install them for a common man with a hectic schedule on their own. Let us tell you something, a lot has gotten off your shoulders now.
Basically, these Security Camera Systems are a way of keeping an eye on one's surroundings, be it their residence, workplace, insides, outsides, you make the choice. A couple of Cameras (or even a singular cam) can be installed to keep an eye, and all the footage recorded would be sent to the desired device(s) as per the user's requirements.
Moreover, you're offered convenience-oriented functionalities that arrive pre-installed with the device, such as instant notifications and updates on your phone and/or laptop, remote-viewing and 24/7 easy configuration, and above all, a hassle-free experience. All these are a constant except for any inexpensive, unreliable, and too-good-to-be-true kind of product.
There are two of the available options for the record in the market, Wired & Wireless Security Camera Systems. Both hold their separate essential qualities, however, people usually go for the wireless one given all the compatibility, ease-of-use, and above all, the weather-resistant capabilities.

Let's not forget the classic Wired Model of this Gadget serves no less of a purpose. It truly depends upon your needs. If we were to help you distinguish the two real quick, we'd tell you that wireless doesn't need a wire, whereas the wired works upon a cable connected at both ends. But you know that already, right?

Another difference is that most wireless cameras capture and forward the footage at a relatively slower pace(transmit the video) than a Wired-Security Camera. But it isn't such a big difference to move towards a whole other option. Let's not get it all too fuzzy, and tell you that the simplest difference is that it's a bit easier to set up a wireless camera system as compared to a wired camera system, in terms of both self-help and money.
You must be questioning yourself if this is something you can do yourself or not really. To help you jump to a conclusion, let's take a look at some of the essentials to be considered before making this decision.
Professional Help VS Tool Box & Fists: Which is better?
It's not a decision to be made in a hurry, because even though the installation and overall configuration of these devices have been made much easier as compared to the earlier times, there's still a lot of work to do.
Given the fact that you have the necessary tools and items required to proceed into the installation, Yes, to some extent you can do the job yourself and ditch a $25-30+/per hour professional for this job.
But to be honest, there's a lot more to be considered before coming up to that conclusion, because even though these products are designed in a User-Friendly way, some people might find it a bit harder.
We've discussed all the vital steps down this process so that you can easily make your mind up without being all puzzled up.
It is advised to go through all the required steps we've mentioned, read the user's manual, and then if you feel like it, proceed into the installation process. Most of the readers are capable of setting this up, and we're sure it's a piece of cake given that it's really one easy process.
Hopefully, you'll be able to do all the stuff on your own and won't need the help of a technician. But if there's even a little bit of doubt in the back of your head, remember that consulting a professional is never the wrong way to go.
Important Tools You'll Need to Install a Security Camera
Below listed are all the items you need to proceed further into this process if you're doing this by yourself.
A couple of screws (you usually get stuff like that with the product)
A cable compatible with your device (if you have a wired device security camera)
A tape measure (for the markings)
A pen
Safety Glasses
Safety Gloves
A Shock-Proof Step Ladder made of insulating material
… and that'd be all you need.
Here is the step-by-step process of how to install the security camera.
Go to your desired place of installation (be it indoors or outdoors) and look for a reliable specific place on that wall to hole inside of.
Look for an available source of electricity (through a cable) coming through or somewhere close to that spot.
Make the markings and accordingly do the drilling as well.
Place the camera at that spot using screws and a hammer.
Check if the camera is properly fixed, getting the electricity input, and can transmit the video from that place.
Well, if it all seems well, you're almost done!
How to configure the receiver?
You place all the cameras (or camera) in position and connect them with each other either with the use of cables or simply using the BlueTooth connectivity if it's a wireless camera.
Now you build a connection between the cameras and the receiver, again using wires if it's wired and BlueTooth if it's wireless. Now fire the receiver up and connect it to a display device. Or
Connect it with the desired device you want to receive updates on or simply access it using a phone application or laptop software. This is usually a feature that you get on wireless cameras, but if yours is wired and has this function, the steps will be the same.
Set up the configurations and make the desired changes as per your requirement when it asks.
You'll be able to see the footage now on the display device you chose to go with.
---
Frequently Asked Questions (FAQs)
Here are some of the most frequently asked questions regarding the installation of these devices that you shouldn't miss before you jump right into the process.
1. What is the best Storage selection to be made for these devices?
In a nutshell, one can either opt for CLOUD STORAGE of the footage or LOCAL MEMORY, which is referred to as SDCards, USB Drives, and stuff like that. Honestly, it solely depends upon one's needs and requirements about the placement and overall factors regarding both. If you go for cloud storage, you get to access the recorded footage live onto any device that has access to the internet, and obviously, the cloud storage itself. But the thing is that it's prone to be accessed by hackers if the Cloud Software isn't reliable.
In the case of Local Memory Storage, it works upon storing the data inside a MicroSDCard, USB Drives, and stuff like that, and indeed it offers a limited amount of storage. Even here, if it's placed in such a manner that any intruder can access it easily, they can steal, destroy, or make changes to not just the footage but also the camera device itself. So yes, there are risks in selecting either of these, that's why it depends entirely upon your needs and conditions whether you should go for a Local Storage Device or Cloud Storage.
2. How to connect security cameras to your Phone or Laptop?
Well, most of these security camera systems come with compatible software or applications that work seamlessly with the device (Laptop and Phone), so all you need to do is to download the software/application on the desired device. Then create your account or sign in inside, set up the configuration options it asks, and that's it. That's literally how easy it is to set up these devices, regardless of your device. The intuitive User Interface of the respective software is always helpful and self-explanatory about all the relevant features and functionalities for almost anybody. So DO NOT worry about that, it'll be a simple process.
3. Where should you mount the security cameras? (Indoor or Outdoors?)
Again, it solely depends upon your needs and conditions. If you want the footage of everything that occurs outside your residence, workplace, or any other place, you place it outdoors. If you want to keep an eye on the insides of your house of the workplace, GUESS WHAT? You can just place it inside.
It's literally about what suits you more. But before you go and place any random security camera outdoors, you need to make sure the product is weatherproof, waterproof, is reliable, and won't leave you anytime soon! That's it, going for either of the options is okay. Nothing's really wrong with placing them indoors or outdoors, you just need to contemplate the idea first.
---
Final Words on Security Camera Installation
If you thoroughly read all the information we listed above, from a brief definition of Security Cameras, What's better: Professional Help or being all on yourself, the simple steps to set the camera system up, & the FAQs, That's it, folks. That's all you need to know about setting up a Security Camera System.
Hopefully, you found this installation guide valuable and helpful. If you have any questions, wish to ask us something, have any recommendations, or even if you want us to write an article around something that you want, feel free to comment down below and let us know what you feel about the article too. We love reading what you guys write and work upon the articles you ask us to formulate.
Keep Smiling!
You Must Consider:
Camera Suggest is supported by its audience. When you purchase through links on our site, we may earn an affiliate commission. Learn more