Are you looking for a super great camera that can let you record everything going on in front of your house? This article will help you to find out the best peephole cameras available on the market right now.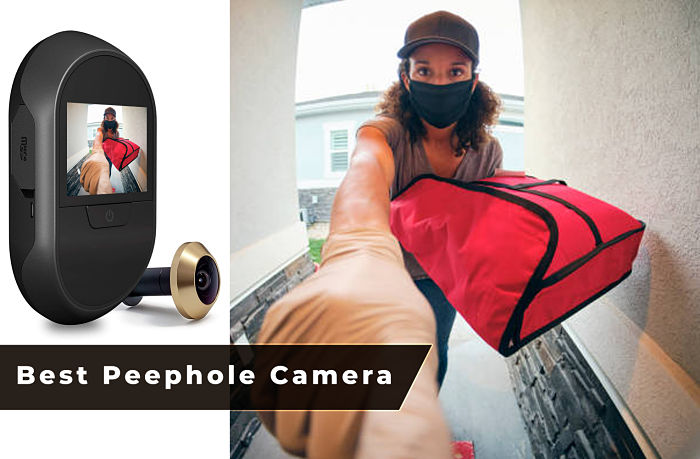 It's like a traditional aspect of our lives that we always try to keep an eye on our family and ensure their protection. And that is primarily the reason why people nowadays try to protect their families from all potential threats.
That's why as soon as we realized that a good peephole camera is what you guys are looking to purchase. We curated this article and made sure that you get to buy that best lookin' and high-performing qualitative product that flawlessly fits your needs!
So give it a thorough read, and hopefully, you'll find the product appropriate for your needs.
Are peephole cameras legal?
Yes, peephole cameras are legal in most cases.

There are a few restrictions to be aware of, but installing one is perfectly safe and allowed by law for the most part.

First and foremost, make sure you consult your local laws before making any decisions about purchasing or installing a security camera. That will ensure that you're following proper guidelines and not breaking any rules.

Next, understand that while installing a peephole camera on the front door of your home or business premises, the camera's angle should not invade someone's privacy.
Is there any difference between the peephole and doorbell camera?
There's little to no difference in terms of functionalities and features these two types of products serve. If you get one, you might not even be able to differentiate which one is which since they look pretty identical and serve pretty much similar features.

Nevertheless, there are differences. If you avoided drilling the door, which is the essential requirement of installing a peephole camera, the doorbell cam is your buddy.

However, the peepholes come with an exceptional knock-detection capability pre-installed into them, which doorbell cameras strongly lack. For example, you can compare the well-known products by Ring, Ring Peephole Camera & Ring Doorbell Camera to compare and differentiate between the two and notice the difference.

We agree that there won't be much to find out, but the main differences we just discussed will be easily noticeable.
How to install a peephole home security camera?
Each product comes with a D.I.Y. Installation Guide to help you get this simple process done all on your own. Check out our guide on 
security camera installation by yourself
 (
What You Should Consider: Professional Help or D.I.Y.) if you're even a little bit confused about what to do.
Remember, the process is straightforward, but consulting a professional is never the wrong choice if you're not confident enough about this. It's not the best idea to try and get it done yourself if you doubt yourself, to save a couple of bucks.
Which peephole camera is best?
It depends on your unique needs, as different products come with different features and benefits that may be important to you. However, we have tested a lot of peephole home security cameras and collected the best products for you.
Ring Peephole Cam
is no longer being sold on the official website. The ring has replaced the Peephole Cam with their new Doorbell Camera which we believe is even better and easier to use.
You can check its
official website
for more details.
Ring constantly innovating on behalf of its customers to develop products that best meet their home and security needs, and provide them with as much choice as possible. While Peephole Cam is no longer available for purchase as an individual product, Ring offers additional options such as the 
Ring Video Doorbell (2020 release)
 and the 
Ring Video Doorbell Wired.
Best Peephole Camera (Expert's Pick)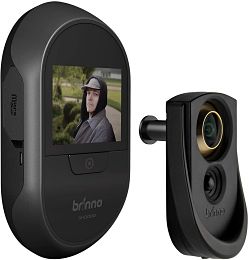 From design to functionality, the Brinno Duo SHC 1000W peephole camera is developed with security in mind.
Positive
Small and discreet size
Easy installation process
Motion sensors allow for footage review only when unoccupied
Records videos when someone knocks on the door
Can be mounted anywhere
Negatives
Screen quality can be improved
Camera quality is not expected
Small and compact with clear pictures, this excellent SHC1000_12 peephole camera from Brinno has a powerful beam. This home security camera is straightforward to install, allowing you to do so without even dealing with wires. This modern design can also be used as an alarm clock, or usually, travelers carry it around for airports security checks using in-wall adapters. If you want peace of mind when traveling outside the home and trusting your safety, I advise you to buy and install an advanced Brinno peephole camera with all these fantastic remarkable features.
From Motion Detection, Knocking Sensors, Easy Installation, Superior Battery Life, Clear Image, Wire-Free, Digital Visitor Log to an advanced mechanism, we can gladly say that this product from Brinno is the best peephole camera. The only downside may be the price – but it is worth the investment if you want the best possible camera for your home security needs.
The benefits of using this camera are the number of them is tiny, and they can be easily mounted on your door or anywhere you need a peephole to make sure who comes into your house. Brinno's claims to have an easy installation process, but it may not be an as straightforward operation, so we advise customers thinking about purchasing this product to contact customer service for further assistance on how they best think about their products.
As mentioned earlier, this peephole home security camera has motion sensors, so you can review footage only when it is unoccupied. Also, it can record videos when someone knocks on the door. This feature can keep your family safe and protect visitors from being let in without your permission.
The Brinno SHC1000_12 peephole camera is different because it has an enhanced mechanism of working principle. That means the camera is able to distinguish between persons and objects, making it a better choice for your home security needs.
If you are looking for an advanced peephole camera that has all these amazing remarkable features and can protect your family and visitors from uninvited entries, this product should be at the top of your list.
---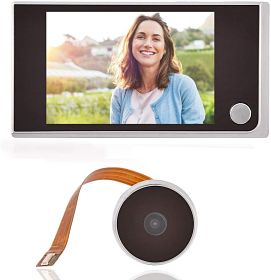 The Zerone Peephole Camera is an excellent option for those looking for a discreet from design to functionality. This digital door viewer offers a 480 x 320 pixels image resolution for use when peeping into adjacent rooms.
It works by taking the image from a wired or wireless connection and displaying it through its hidden style peephole look with a field of view of 120 degrees, which is attached to your doorframe. This way, you can see only what happens on your side of the door while ensuring that outsiders cannot see in – other than via their entryway!
The peephole camera has no night vision changing lights but very powerful infrared LEDs illumination for inclement weather. It has a power source of a 1-AA battery found in most electronic devices. The camera is wall mountable to make accessing the peephole easier for you, the user, or a member of your household. It remains discreet when touched, knowing that there are minimal lens components on either side. All lenses maintain low-profile mounts, so people outside won't know what device is attached – unless they look specifically for it.
To use this digital door viewer, all you need to do is be connected to your home's wi-fi hotspot and open the app on a smartphone or tablet while putting it in place. Following that, push 'yes' when prompted by Apple HomeKit (iPad only), which activates both wired and wireless cameras after hitting start recording mode twice. You can view a recording video of everything happening on your property before answering the door.
So if your budget is super strict and you want just the set of valuable and essential features embedded in one product, the Zerone peephole camera is where to bet! Highly recommended to check out even if your budget is somewhat above it. Sometimes even customers who have a flexible budget purchase this one because of how it provides every helpful feature and functionality. We loved what the company has done here!
---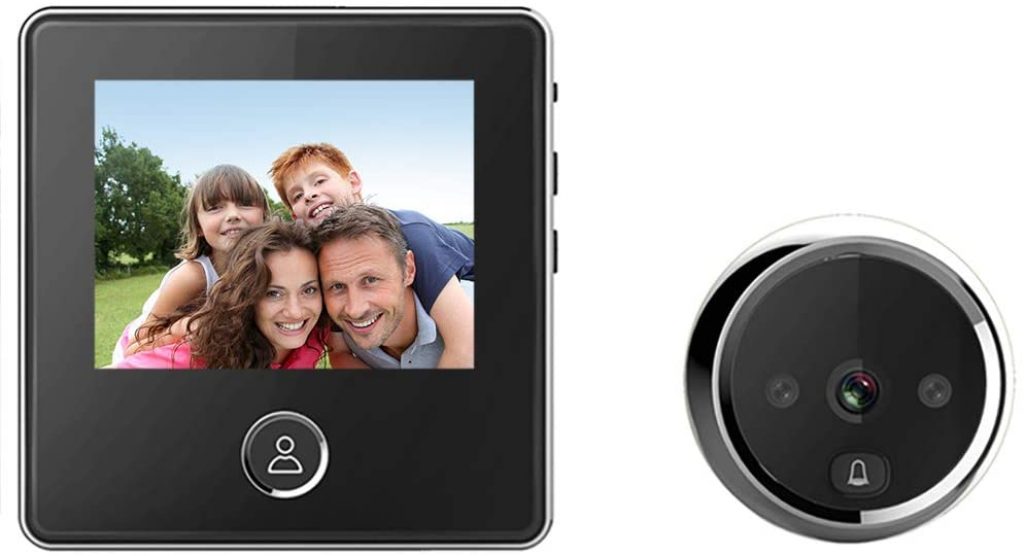 The DigiTharbor door peephole camera is a cost-effective and functional peephole camera that comes with infrared LEDs for inclement weather illumination and a 1200mAh lithium battery power source. People outside will be unaware of what's attached to the gadget due to its opaque design and easy activation through Apple HomeKit (iPad only).
This peephole cam has a 3″ LCD Screen with an adjustable viewing distance of 15 feet. We also like how this product is waterproof or in water-tight designs in addition to the most demanding operating environments. Also, it has a 120-degree wide field of view and night vision up to 32 feet. Internal memory stores up to 75 recent photos, with the oldest photo being automatically overwritten.
DigiTharbor is easy to install with no wiring required and comes in original packaging by default! You can choose your desired mounting sites when you decide to put them up. It translates into success for security installation as long as the chosen spot works out well enough! If you're still uncertain, the product designers stress that they offer universal mounting kits to support most home types without worrying about installation specificities!
Finally, DigiTharbor has a very active community on Facebook and Twitter, even having live tech support 24/7.
---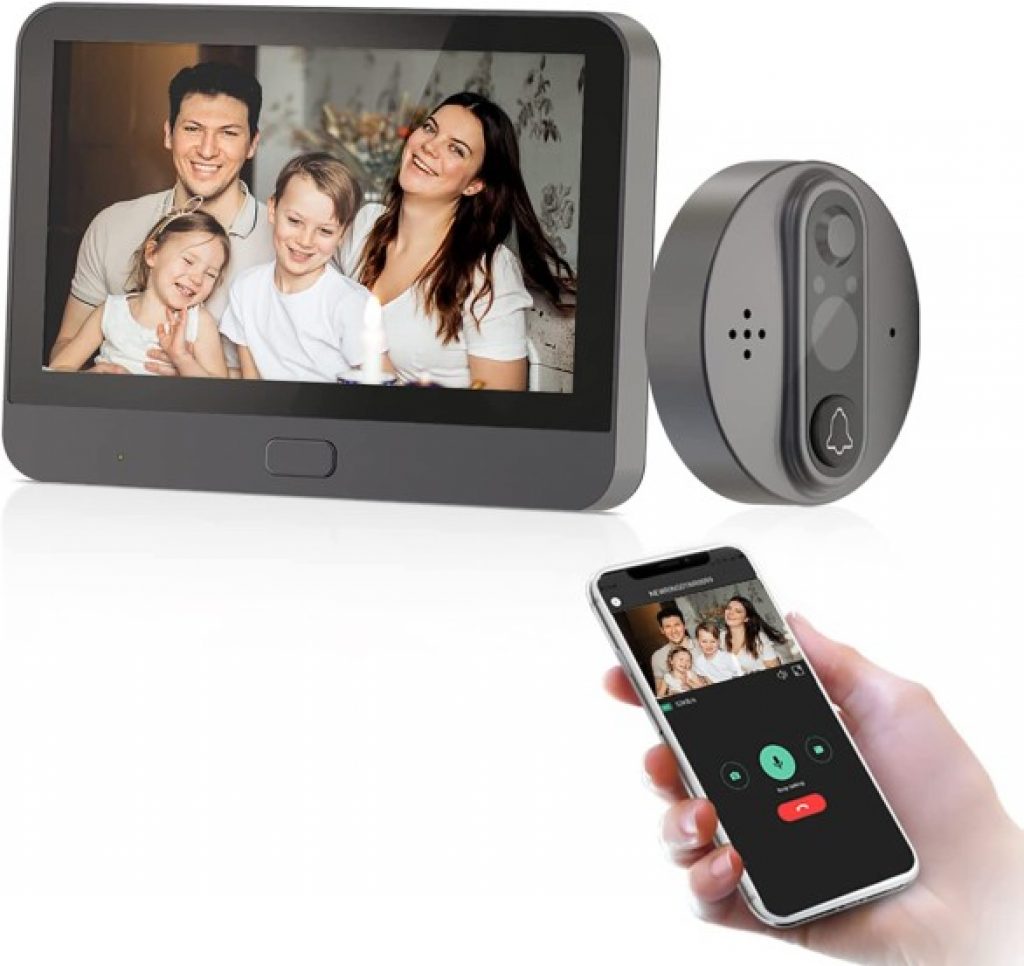 The JeaTone wifi digital peephole camera is perfect for any home security situation. Its WIFI connection allows you to view the camera from anywhere in the world from the smartphone app, and its 1080p resolution with CMOS sensor makes it easy to see even in poor lighting conditions. The included screws and anchors make installation a breeze, and its lifetime warranty ensures that you've backed up if anything goes wrong.
This peephole camera features a 120-degree wide field of view design to optimize your home security. Also, it supports up to 64GB of SD cards for extra security and can handle any temperature (it even has an indoor/outdoor design).
Even on nights, guests would be seen clearly with the JeaTone peephole camera's Built-in Infrared night vision and night vision range of around 2 meters. Automatic body movement detection is performed using the PIR motion sensor. It will capture and photograph automatically after the motion is detected, and it will send an alarm to your mobile phone.
You have to connect WIFI with Tuya APP for a few steps. Furthermore, it will establish a two-way intercom to speak to individuals outside the door at any time once someone touches the doorbell, sending you a notification via Tuya APP. The Digital door peephole camera allows you to use 4 mobile APP users at once for your home security.
Overall, the JeaTone wifi digital peephole camera is ideal if you have a limited budget.
eufy Security
Coming in a distinctive cuboidal shape and a classy design, eufy Security Doorbell Camera is one of the best peephole cameras that we might want to discuss with you guys.
From 2K Resolution Video, Secure Local Storage, Human & Motion Detection, 2-Way Audio System, Free Wireless Chime, and many other standard features that come with this doorbell camera make up for its best-in-class qualitative services that you don't have to pay for a monthly basis as per maintenance charges, unlike other products.
Beyond all the savings you make in the long run, we appreciate how this product is ranged at such a reasonable & affordable price, which makes it one of the most easily accessible products to choose from.
Suppose your budget isn't huge, and having a set of valuable features, clean quality, and durability, and above all, simple usage is what you seek. In that case, this product is trustworthy, and you can definitely go for it.
Remo+ RemoBell S
With one of the most simplistic & minimalistic designs on our today's list that are made out of utter sophistication, Remo+ RemoBell S is a feature-rich product that offers a wide array of features to utilize.
Above all the bright things, we appreciated how the device has no useless features whatsoever. If a user really needs a Peephole Camera in 2021, it's pretty imperative to ensure that they get what they truly need, but paying more for something that you might never use.
If that sounds creepy to you, this is the product for you. Whether it be a minimalism seeker, an individual on budget, the product fits almost all your relevant needs.
Again, WiFi functionality embedded with a spectacular 1080p HD Video Quality, Motion Sensor, 2-Way Talk, and Alexa Enabled (No Monthly Fees) (Free Cloud Storage) saves you a couple of bucks too and yet doesn't let you spend a lot even when you purchase it for the first time. One Amazing peephole camera indeed!
Zumimall Security Video Doorbell
The fact that ZUMIMALL is one of the most trustworthy & leading companies in the security space and accounts for crafting some of the finest quality products that receive immense love from the buyers alone makes us tell you that this product is BEYOND YOUR EXPECTATIONS!
As per the research we did on it, Zumimall's Doorbell Camera comes with all the standard features, but what separates it from all other products is the trust factor.
There are a ton of companies out there. Still, Zumimall is a well-known manufacturer of security cameras, and it impresses us how it also has some of the most positive feedbacks and reviews from the customers. If you trust and quality is your #1, this is the one for you!
---
Conclusion
So, in the end, it really comes down to our verdict, as always.
But we'd suggest you not to be a lazy bun and check each product thoroughly out first, and then come back, as always. Now, the easiest way to lookup for that perfect peephole camera while you stumble across many is to list down your needs and check the products that match almost all your needs.
As soon as you find these products, look for their ratings on the leading websites, and if they're above a Fantastic Rating of 4 Stars, you can gladly move to the next step. Now read what their consumers have to say through the reviews section, and if it still seems like an excellent product, consider the same if it fits your budget.
Remember, always consider the budget at the last step because when we consider it initially, we lose onto some of the great products and get stuck with the ones that might not be the best. Indeed, the product must meet all your needs, but we can't know what's the perfect price of a particular line of products, unless we check its competitive products, and compare it with other significant ones.
Make sure you let us know what you have to say about these products if you're about to buy any of them or already own them. Share your experiences below so that it helps the visitors make a better decision.
Camera Suggest is supported by its audience. When you purchase through links on our site, we may earn an affiliate commission. Learn more