The best camera for vlogging your YouTube videos is a question always asked by new vloggers. If you're looking for the perfect camera to start your video blogging journey, then you should consider this article.
We'll recommend the best vlogging camera for your needs, based on our years of experience in the industry. This camera is perfect for anyone who wants to start a channel or just wants to take their video shoot to the next level. It's easy to use, has a great range, and is also incredibly affordable.
We'll also provide tips on how to get the most out of your camera and some essential equipment that you'll need to make video blogging a breeze. if you want something more advanced with higher specs, we've gotcha covered. Let's get started!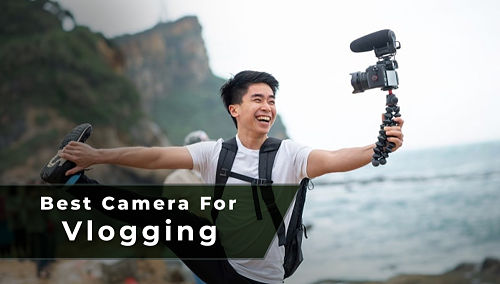 But before you go through the reviews of all the cameras, we want you to go through all the essential considerations that you need to keep in mind during selection.
What To Consider To Get The Best Camera For Vlogging?
Getting the perfect vlogs with cinematic A roll and B roll is only possible when choosing the appropriate camera for vlogging. To help you out, we have highlighted some crucial factors that will guide you to the best;
Camera Type- At first, you need to consider the type of camera you want to use. Action and Mirrorless are currently the most popular choice when it comes to vlogging as they are portable and offer good quality.
However, if you need the most beautiful visual quality with a lot of lenses, then there is no match to a DSLR. But DSLRs are quite bulky, and you can't easily carry them. Mirrorless, on the other hand, offers superior visual quality than DSLR and comes with compact body structure.
However, they are quite expensive, and not everyone can own them for vlogging purposes. Nowadays, point and shoots are proving to be a plausible option for vlogging as they are easy to carry, inexpensive, and offer a decent visual output.
Resolution- Having a high resolution of images or videos will give your vlog the professional touch and top-notch quality to attract your subscribers' attention. However, if your vlogs demand top-quality videos with vibrant color and sharp contrast, then you should opt for cameras that can record at 4K UHD quality.
It would be great if you can manage a camera with HDR capabilities as it will help you to bring a spark to your travel, food, lifestyle, or product review vlogs.
Low Light Performance- You can always expect to have perfect lighting conditions, especially when you are shooting outdoors. Even if you are shooting indoors, you need to have professional lighting equipment to get the ideal ambiance for your vlogs. Having a great camera with excellent low light performance will help you tackle lighting issues and get a vivid visual output.
Optical Stabilization- No one would love to shoot and showcase shaky videos in their vlogs as it degrades the whole quality of the vlog. Nowadays, the gimbal has taken charge to allow vloggers to record smooth videos.
However, there are certain situations where the gimbal often fails to get smooth frames due to sudden movements. If you choose a model that has inbuilt image stabilization, then there is a negligible chance that you would get shaky videos even if you are running.
Sensor Size- It is smart to get a large sensor when you get a camera for vlogging because it indicates more clarity, data, and light for the videos. DSLR and mirrorless come with large sensors, and this is the reason they offer better images and videos for vlogging.
Field Of View- When it comes to the field of view, action cameras offer a variety of fields ranging from a super-wide 10mm to a massive 200mm view. However, for DSLR, you will have to opt for different lenses to utilize various fields of view.
Audio- Most of the cameras, whether action, DSLR, or mirrorless, come with microphone options for recording. However, the audio quality of some cameras is not excellent, and you won't get a clear audio quality in your vlogs due to a lack of external noise reduction. So to clearly record your voice, you can utilize the microphone input for hooking the external mic.
Display- When you are vlogging, you will obviously need a screen to preview what you are recording. Most of the mirrorless and DSLR comes with a display screen while some offer flip option. But we can't say the same for action cameras as it comes with a small display and it would be better if you connect an external screen.
If you are in a hurry, we have selected the best budget camera and hot pick for you.
Best Camera for Vlogging
Best Vlogging Camera Under $500
GoPro HERO 8 (Waterproof Action Camera)
At an affordable range, many people consider GoPro Hero 8 as the top camera for vlogging because it comes with the capability to shoot 4K videos at 60fps. The combo of 12MP and HDR gets superior quality videos with great detailing and reduced blur.
If you are someone who loves to include action sequences in your vlogs, then HyperSmooth 2.0 is the feature you need. You can record the smoothest video in high resolution and frame rate while running or motor vlogging. The four digital lenses: SuperView, wide, linear, and narrow, allows you to get the best view with a simple click of a button while vlogging.
Amaze your viewers with intriguing time-lapse while walking through stunning roads, and the credit goes to the popular TimeWarp 2.0. You can even introduce night lapse videos in your vlogs and add a creative touch to your videos in numerous resolutions.
With the availability of three mics and low wind noise, you won't be needing any external mic to record high-fidelity audio even at high motion. You can utilize GoPro's display, media, and light mod to notch up your creative boundary and work towards a vast subscriber base.
Canon PowerShot G9 X Mark II
Are you venturing into YouTube content creation? But entirely clueless which camera to use? Well, you can consider the Canon PowerShot G9 X Mark II that has all features you need for top-notch video recording. You can carry this camera almost anywhere you want, and it is due to the sleek body design that only weighs around 206g.
The full HD recording it offers is pretty excellent in terms of quality and color clarity, and you can record around 1hr video continuously. In one full charge, you can record almost 315 high-resolution images, which is pretty amazing for this portable camera.
Even though the 10-30mm lens doesn't give you a wide field of view, but it gets the job done if you record a lot of A-rolls and close-up shots. Loaded with four picture styles and time-lapse mode, you can bring versatility to your blogs and attract the attention of new viewers.
Spice up your vlogs with continuous shooting up to 8.2 fps that comfortably capture fast action scenes. Despite being priced at a much lower level, G9 X Mark II treats you with Wi-Fi and NFC for data transfer that you mostly get in high-end Canon models.
Best Vlogging Camera Under $1000
Canon PowerShot G7X Mark III Digital 4K Vlogging Camera
Canon PowerShot G7X Mark III is another popular compact camera that has earned a lot of praise from YouTube vloggers all over the world. You will get the brand new DIGIC 8 image processor that allows you to capture every detail for life-like visual quality and get the upper hand over its predecessor.
Nowadays, 4K HDR is a universal video recording format for numerous point-and-shoot cameras, but most of the cameras crop the 4K resolution. But with this unit, you can shoot without cropping issues and please your viewers with a cinematic view. The 24-100mm zoom lens with super f/1.8gives you the freedom to shoot at different fields of view and bring dynamicity to your videos.
All thanks to the 31points AiAF system, you can accurately focus on your face or any object without needing any post-process like other cameras. The built-in ND filter makes your vlogs come alive in every lighting condition and gives you super-crisp images with vibrant colors. You can stream your live vlogs on your YouTube channel, and the credit goes to the Live Streaming functions. Even though it gets an updated NB-13L battery pack but you will have the same recording time as other compact Canon models.
Sony ZV-1 Vlogging Camera
Undoubtedly, Sony ZV-1 is one of the best cameras for vlogging available in the market. Geared 24-70mm Vario-Sonna T lens and 3 Steps ND filter, it allows you to record top-notch videos with optimum quality and clarity. The large aperture lens with 4K HDR 100mbps bitrate recording capability comes really handy because you can shoot excellent B-rolls and wide-angle shots with the same lens.
While recording, your face won't go out of focus, and the credit goes to the fast hybrid AF with real-time eye-AF3. To provide priority to your face during vlogging, this camera gets a face priority AE that keeps your face bright and focused in any light condition.
Enjoy great sound and clear voices with the forward-directional inbuilt mic and MI shoe, and that too when you are shooting in a crowded place. The S-log gamma introduces a professional color grade to all your recordings that are sufficient to attract a large number of viewers.
You can bring cinematic touch to your videos with super slow motion and time-lapse features. Since it is dedicated to YouTube creators, so it gets specialized bokeh switch and product showcase settings to brings out a different output.
PANASONIC LUMIX GX85
Panasonic Lumix GX85 is a budget solution for enthusiasts who want to shoot vlogs in mirrorless but can't invest in highly expensive full-frame mirrorless units. With a 16MP micro four-thirds sensor with no low pass filter, this camera puts out a terrific frame quality with exquisite detailing.
The Venus engine, on the other hand, reduces all the noises from the frames and gives you lively videos for your vlogs. With the capability to shoot up to 4K resolution and that too at 3fps, you won't ever face any boundary to explore your creative ideas. The class-leading 5-axis sensor stabilizer will never bug with blurry videos while you are walking and shooting videos in a moving car.
In this segment, we have recommended the combo of 12-32mm and 45-150mm lens so that you won't be limited to a specific view and shoot according to your requirement. The Live Viewfinder and tilting LCD display allows you to shoot freely and check the preview from any angle.
It comes with sRGB and AdobeRGB color space so you can upload a professional quality video on your YouTube channel. Say goodbye to fuzzy audio quality as the stereo microphone input of this camera gets wind-cut facility.
Canon EOS M50
Nowadays, vlogging has become an essential hobby of many people, and that is why products like Canon EOS M50 are gaining popularity among them through their impressive performance. With a shooting capability of 4K at 24fps and 4K time-lapse, this one of the most excellent vlogging cameras gives you complete freedom to produce a top-notch video for your viewers.
Blessed with features super-fast dual pixel CMOS autofocus and contrast-detection AF, you can always get the best out of all the scenes to create a mesmerizing vlog. Bringing a slow-motion effect with 120fps in your creative videos would give an edge to your vlogs, but you can only do it in full HD resolution.
Thanks to Digic 8 image processor and 24.1MP CMOS sensors, your vlogs will have stunning textures, tremendous color depth, and razor-sharp detailing. The high-resolution inbuilt viewfinder allows you to see every detail while capturing so that you can frame your shot accordingly.
Having said that, the vari-angle LCD monitor lets you change the panel angle so that you can check the video preview from every direction. Once you have recorded your vlogs, you can quickly transfer it to your laptop or smartphone with the help of a seamless NFC and Wi-Fi connection.
Best Vlogging Camera Under $1500
Sony a7 III
Sony A 7 III is an incredible imaging unit that will leave you flabbergasted with its full pixel readout without any binning that gives not only high detailing but also curbs moire. With features like HDR workflow, Quick Motion, and S-log3, it will take your video to a new height and reward you stunning videos for your vlogs.
This camera has the best sensor and image processor from all the Sony cameras in this list, and 24.2MP BSI full-frame sensor and latest BIONZ X image engine is the proof. Features like 5-axis stabilization and super fast 4D Focus have made this camera a favorite device for all the renowned vloggers in the world.
Sony A7 III comes with the support of numerous lenses, so recording your vlogs from different perspectives won't be a problem for you. With Detail reproduction and area-specific noise reproduction technology, it gives you super-fine image quality with up to 1.5-stop enhancement in noise clarity.
The long battery life and dual SD card slot give you the freedom to shoot your vlog in one flow. The camera is also compatible with USB Type C that ensures a smooth workflow with high data transfer. To minimize the flickering effect when shooting outside, Sony gets an anti-flicker shooting that eliminates high exposure and color inconsistency for fast-paced videos.
Panasonic Lumix DC-G9
Without a doubt, Panasonic DC-G9LK Lumix is a top-of-the-line camera for vlogging that treats you with an outstanding video performance of 4K at 60fps. Take your vlogging experience to the next level with its dramatic slow-motion effect at 4K, which you would hardly find in most of the cameras.
However, its full resolution 20.3MP sensor takes all the limelight as it not only can capture impressive frames but also can use a special mode for capturing 80MP raw images. The blend of the high-performance shutter with customizable AF and 0.04 sec fast AF allows you to capture explicit videos without missing anything.
Even if you are not using a gimbal, you will hardly find any shake in your recordings, and the credit goes to the 5-axis dual image stabilization. To explore the camera's real capability, it also gets a Leica DG 12-60mm lens that has all the potential to create cinematic vlogs with maximum vividness and color.
You will never run out of battery while recording your vlogs because you can charge it with USB's help from your power bank. Transferring your videos won't be a problem, and it is due to Bluetooth 4.2 with Wi-Fi- 5Ghz.
Sony RX100 VII
When you search for a popular camera for YouTube content, one camera that will be recommended by many creators is Sony RX100 VII. It is a popular choice for video recording that utilizes the latest BIONZ X image processing engine that brings out all the details in every frame. Treat your viewers with super-fast yet smooth 20fps action shots, and it is due to the Blackout free shooting that keeps track of the fast-moving object without any blur.
With 0.02sec AF and massive 357 focal-plane phase-detection, it not only treats you with the world's fastest AF feature but also gives it an edge over its new sibling Sony ZV-1. Features like optical image stabilization, anti-distortion electronic shutter, and soft skin effect facilitate you to capture the best visual quality for your vlogs.
What makes RX100 VII's video output different from others? The HLG capability in their UHD videos that puts out realistic color and textures. The AI-based real-time tracking makes vlogging much more comfortable and prevents you from changing focus after every interval.
The tilt display with 180-degree movement gives you the freedom to vlog with complete versatility. Even though it is a compact device, but you will get a one-push Access OLED viewfinder that quickly pops out for high contrast viewing.
Canon EOS R Mirrorless Vlogging Camera
If your main motto is to showcase your creativity through stunning vlogs on YouTube, then there is no better alternative to Canon EOS R. Build with a short back focus distance between lens and sensor, it produces an unparalleled video quality with smooth performance.
The support of sRGB, Adobe RGB, unique 4K HDR  time-lapse, and Canon Log supports will bring out the filmmaker in you and help you create some stunning vlogs. You will also have the support of the new dual pixel CMOS AF that will let you precisely shift the focus without causing any blurry frame. Plus, the factor that makes it stand out from every other full-frame mirrorless camera is the mammoth 5655 selectable AF that gives complete freedom to focus anywhere you want.
This new EOS R camera is dedicated to vlogging, and that is why it is compatible with a wide range of lenses, especially the new RF lenses. The all-new drop-in filter mount adapter changes the whole game as it lets you utilize different types of ND or polarizer with all the modern lenses.
If you are shooting in the jungle, you can utilize tethering and remote capture to record from a distance without alerting the wilds near you freely.
Olympus OM-D E-M5 Mark III
From the house of legendary camera manufacturer Olympus, we present the OM-D E-M5 Mark III vlogging camera to you that is often considered a hidden gem in the market. This classic-looking is a meticulously designed product that uses a 20MP live MOS sensor to capture every detail in the scene and create extraordinary videos for the vlogs.
It is often considered as one of the ideal options for vlogging because it provides 4K 30fps shooting with flat picture mode for post-processing. Say goodbye to your camera gimbal as the 5-axis in-body stabilization allows you to capture smooth 4K videos and negate any camera shake.
With a massive duty battery, this vlogging device also facilitates USB in-camera charging so that you won't have to put a pause while harnessing your creative shooting ideas. Unlike others, this camera's body is totally weatherproof, meaning you can even use it in a slight drizzle or average snowfall.
Keeping up with fast-moving objects won't be a problem, and the credit goes to the ultra-fast 30fps sequential shooting. You can utilize the movie-effects, art filter, timelapse, slow motion, etc. in the camera to give your vlogs a unique touch.
Sony Alpha A6600 Mirrorless Camera
Alpha A6600 from Sony is a widely popular name among vloggers that has amazed each user with top-of-the-line video quality and super-fast AF. Flaunting the world's fastest AF at 0.02 sec with object tracking, you will never miss out on any fast-moving object while taking images or videos.
Real-time Eye AF assists you in keeping your face or any object on focus even if you are moving rapidly. The smooth focus transition gives your video a professional touch that you can expect from ordinary models from other brands.
The roll compensation, pitch & yaw control, and horizontal & vertical axis facilitate you to shoot in any way possible without getting any shake, motion blur, or jitter in videos. If you want to get the best out of night shot, then A6600 can help you by offering excellent low-noise performance at high ISO.
The improved color reproduction plays a significant role in creating a terrific video quality for all your vlogs. The slow and quick motion recording can be beneficial to spice your videos and allow you to entertain your viewer with a variety of sequences.
The various-angle LCD can be tilted in various angles so that you won't always have to move your head to check the video preview. Loaded with numerous state of the earth movie recording capabilities, you won't be restricted by features to introduce new ideas in your vlogs.
Canon EOS 80D
When it comes to recording vlogs using a mid-level DSLR, Canon EOS 80D always comes as the first choice for many vloggers in the US. Geared with a 24.2MP APS-C CMOS sensor DIGIC 6 image process, you can expect refined video quality with optimum white balance in all your vlogs.
Unfortunately, full HD at 30fps is the maximum resolution you can achieve through this vlogging camera, and we think it would if you are just starting out your YouTube vlogging journey. With the support of 45 points cross-type AF system and dual pixel CMOS AF, you can precisely record all the action shots without facing sudden blur. To mesmerize your viewers with cinematic moves, you can comfortably add HDR clips and time-lapse shots with this camera.
You will also get to utilize focus racking to help you smoothly shift the focus from one object to another while you are recording your vlogs. While using it with a gimbal, you can tilt the screen at any angle you want and check whether you are getting the perfect frame. The inbuilt stereo microphone is quite capable of audio recording, but we recommend utilizing the external mic input for better sound clarity.
Final Words
We wrap it by saying our list of best cameras for vlogging will surely guide you to the most appropriate model based on your requirement. Every year new cameras are rolling out in the market with modern technologies, so it was difficult for our team to choose the cameras.
But after weeks of research and proper testing, they came up with all the top models in this list. They may come with different price tags, but one thing you can stay assured they won't disappoint you about the video quality you record for your vlogs.
If you have any further queries, you can get in touch with us, and we try to solve your issue in any way possible.