Gone are those days when you had a limited amount of choices if you wished to get the best DSLR camera under 1000 dollars. The current rage among today's generation to get stunning social media photos has shot up the demand for DLSR to a new height.
Nowadays, you will find a plethora of choices under $1000 price range and that from various brands. However, with new cameras being released regularly, finding the right one is becoming complex.
So whether you are purchasing a DLSR for the first time or upgrading your existing one, the chances are that you will be perplexed by a large number of choices.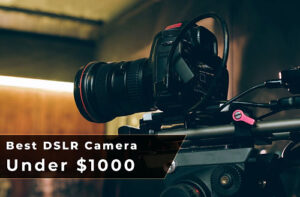 When you expand your price boundary up to $1000, you will find different types of DSLRs in the market. There is a lot of difference between a camera that is around 1000 dollars and a DSLR, which is on the $500 mark.
To help you find the right DSLR from the haystack, we have come forward with a well-curated list containing the names of some of the most excellent models.
The 1000-dollar range also serves a vast price range for users who are venturing into professional photography because they will have the necessary features at their disposal. You can check out the best camera under $500. You can get a valuable camera at your budget price with advanced features.
Before proceeding to reviews of all the DSLR cameras, we would like to introduce you to our hot pick and budget pick.
Best DSLR Camera Under 1000 USD
Fujifilm X-A7
Fujifilm X-A7 is a nice-looking camera, and it has certainly caught up quite a bit compared to its predecessor the X-A5.
The main highlight of the X-A7 has a massive display of 3.5 inches with a 16×9 ratio which is very uncommon for stills cameras. There is an AF SS beam on the front and the grip side.
There is a lovely little door hiding the micro HDMI and also USB type-c port. Now the type C port is for data but can also charge the battery inside the camera through this type C port. And on the other end, there is a rubber flap covering the mic input. you have to remember to bring your adapter
The software does an excellent job of face and eye detection. Still, the AF does seem to struggle to keep up when it comes to autofocus performance. It's not excellent, but it's not horrible either now being geared toward vloggers and online creators.
The X-A7 does have a few more social media/selfie-friendly features. The camera is capable of capturing some very decent quality photos even under some pretty lousy lighting conditions.
One thing we don't like is the material, there is a lot of hard plastic, and it's not the most comfortable material to hold, and it just doesn't feel very premium. Again this is an entry-level camera, a lightweight, small camera with a nice big flip screen so if you're looking for a camera to vlog with or if you're a content creator then, definitely add this to your list of considerations.
Olympus OM-D E-M5 Mark II
Olympus OM-D E-M5 Mark II is an excellent camera. There are many reasons to buy this camera. It is perfect for you to shoot some long exposure, but in general, it is just a convenient feature to have. Also, the Olympus camera is their life composition feature.
If you don't want to bring a tripod, then it's okay. This camera has very good stabilization so that you can get stable video and images.
Olympus camera has a lot of lenses for you to choose from, and you can use the Panasonic lens, an Olympus lens, and some adapted lenses. It is a mirrorless camera so you can use every single lens on this camera.
This camera gives your image a perfect contrast and saturated look and Olympus has this kind of tolerance nailed for you to post on your Instagram directly, so I think it is one great feature.
The Olympus E-M5 II is a more significant reworking of its predecessor than its looks or choice of sensor seem to suggest.
Ultimately, the E-M5 II is an excellent camera – it's well built, can be a pleasure to use, takes very good stills and videos, and puts right many of our concerns about its predecessor.
Panasonic Lumix FZ2500
Panasonic released its high-end 1″-type superzoom, known as the DMC-FZ2500
The Panasonic FZ1000 was a tremendous super zoom camera, and it has an incredible 4k video and took amazing shots. But here we are talking about Panasonic Lumix FZ2500. It lives up to the quality of the FZ1000.
Lumix FZ2500 is the bigger as FZ1000, but it has some differences from the FZ1000. There are ND filter switch and a headphone jack on the left side of the camera so you can monitor your audio.
Panasonic Lumix FZ2500 comes with a new 20-megapixel sensor with 24 to 480mm which is better for low light.
FZ2500 has Wi-Fi inbuilt so you can transfer photos from your camera to your smart device instantly or lie down on your nearest catch-and-shoot remotely.
Panasonic FZ2500 is a hybrid camera packed load full of features and designed to cater to all levels of photographers and videographers. Its ability to shoot true 4k is fantastic and has all the features and hardware to record great video the photo quality with the added zoom range it's more versatile than ever.
Pentax KP
Preferred by many professionals and seasoned hobbyists, Pentax KP 24.32MP is unarguably a steal deal for users who are eyeing to click stunning images. All credits to the 24.3 effective APS-C AA filter-less CMOS sensor, you will be treated with the lifelike picture quality of your portraits or landscapes.
The staggering ISO range of 100-819200 opens a new dimension to your photography and allows you to click sharp low-light photos. If you wish to capture images in motion or at night, comfortably do it handheld as it gets the support of a 5-axis shake reduction system that ensures blur-free photos.
Moreover, it is quite light in weight which makes it easier for you to click detailed images without requiring you to set up a tripod.
However, Pentax KP 24.32MP will leave you in awe of its ability to create lively images by utilizing the pixel shift resolution technology. It combines four images at a time and stacks them to create a shake-free high-resolution image.
To view all your lucid photos, you will have a 3-inch vertical tilt LCD monitor that also allows you to get great low and high-angle shots. Like every top DSLR camera under 1000 dollars, it also uses Wi-Fi and secure sharing technology to transfer photos on your mobile or laptop.
The power back from the DLI190 Li-ion battery is commendable and facilitates you to click a lot of images at full charge.
Canon EOS 70D
From the house of legendary DSLR maker, Canon, we present the much talked about EOS 70D that has become the primary photography tool for many enthusiasts and pros. Combining the 20.2 MP APS-C CMOS sensor with a prolific DIGIC 5+ image processor will always ensure high-detailed image quality with excellent color fidelity, natural blend, and minimal noise.
The impressive 100-12800 ISO range with expansion up to 25600 in H mode, it not only gives you optimum brightness but also lets you take remarkable low-light photos without flash. You will also enjoy in-house facilities like multiple exposures, HDR, backlight control, and creative filters to take your skills to a new height.
The 19-point AF system of this top DSLR camera under 1000 dollars is partnered with dual-pixel CMOS AF; you will not only get flexibility in composition but also focus accuracy. Interestingly you can expect to shoot videos like a pro with its FHD resolution and Live View AF that make you sure of sharp recording in any situation.
It also comes with an inbuilt flash, hot shoe, and integrated Speedlite transmitter that makes low-light photography a fun affair. The DSLR flaunts a 3-inch articulating touch-screen LCD that gives you an accurate impression of the image you are capturing.
Despite having tons of features, you won't face any difficulty in operating this DSLR, and you will get everything in front of you.
Canon EOS 7D Mark II
Well, if you are familiar with DSLRs, then 7D Mark II from Canon doesn't require any introduction. It is a top-of-the-line DSLR that utilizes cutting-edge dual-pixel CMOS AF technology to capture razor-sharp images and visuals of both still and moving objects.
It also gets 65 all cross-type AF points so that you can have accurate focus despite the orientation and light conditions. However, the 20.2MP APS-C CMOS sensor makes the main impact on the image quality as it churns out a high-resolution image with stunning detailing, optimum clarity, and sparkling color.
Moreover, it also gets a dual Digic 6 image processor and an ISO range of up to 16000 which will surely mesmerize you with its picture quality.
Unlike most DSLR camera under 1000 dollars, it features an intelligent viewfinder II that facilitate comfortable shooting and makes changes through that small hole. However, it doesn't come with 4K recording, but you can shoot fluidic full HD 60fps video with a custom Movie Servo AF facility.
This photography tool is built with a premium magnesium alloy body that seals the camera from dust and water, thus facilitating you to utilize it for wildlife photography. For convenient and clear viewing, it also packs a 3-inch clear view II LCD monitor that gives you enough area to compose and review your shot.
Based on a powerful LP-E6N battery, you can comfortably take pictures throughout the day without worrying about the empty cell.
Canon EOS 80D
Another top-end DSLR camera under 1000 dollars from the widely known Canon is EOS 80D which has become a rage among photography enthusiasts and vloggers. The main aim of this DSLR is to give you lifelike picture quality with impressive composition, and that is why it comes with an intelligent viewfinder that displays many facilities.
All thanks to its 24.2MP APS-C CMOS sensor, you will always be pampered with highly refined images with natural color tones. Moreover, refined individual pixels also ensure high-speed ISO; thus, with a max ISO of 12800, it allows you to have non-grainy bright images, especially in low light and astrophotography.
Sharp focusing is an essential aspect of any DSLR camera, so Canon has engineered it with 45 cross-type AF points with four AF modes that allow you to notch the SLR photography level.
You will be pampered with numerous shooting and image processing facilities; thus, customizing the setting to get the best picture quality possible won't be a problem for you. It gets the standard full HD at 60 fps recording facility, but what sets it apart is the 7 fps continuous shooting that yields excellent action shots.
To cater to the modern shooting requirement, Canon has given remote shooting with the camera connect app. Transferring images and videos with this camera is as easy as it gets because it is built with Wi-Fi and NFC.
Nikon D7500
Want to quench your thirst to get into the world of filmmaking? Then Nikon D7500 is your answer. It has been engineered without a low-pass filter and a prolific 20.9MP DX-format image sensor to create a jaw-dropping frame quality that can outclass any other cameras in its class.
Due to its EXPEEED 5 image-processing engine, capturing images with optimum tonality and sharpness, especially in a low-light environment, has been made easy. However, your primary tool for filming would be its 4K UHD video recording with stereo sound and power aperture control.
To add drama to your videos, you can utilize the 4K UHD time-lapse, 8fps continuous shooting, and various features.
Capturing a moving objective isn't easy, but with D7500's 51 focus points and 15 cross-type AF sensors, you can easily capture swift-moving objects with fast detection. The 180-pixel RGB sensor not only improves the AF performance but also gives you greater control.
Nikon has loaded it with numerous creative tools, including the likes of image batch processing, auto-AF fine-tunes in live view, auto ISO, etc. Built on Monocoque design and extreme weather sealing, you can use it in any weather condition without worrying about damage.
Despite having a rugged design, it has an ergonomic body and comfortable grip so you won't have discomfort during all-day shooting. The compact body also houses an EN-EL 15a rechargeable Li-ion battery that can surprisingly take up to 950 shots in a single charge.
Nikon D7200
Nikon has an array of high-performance cropped sensor cameras, and D7200 is one of them that sits in the top-tier position. It is a critically acclaimed model that transforms any ordinary into an extraordinary image with its EXPEED 4 image processing.
However, the 24.2MP DX-format image sensor serves as the primary tool that lets you take remarkable photos with high color and enhanced detailing. The camera can expand its ISO range up to 25600 which will not assist you to tackle challenging lighting conditions but will also give razor-sharp night photos.
The next-generation picture control, auto bracketing, and inbuilt HDR will be beneficial for uplifting your photography game and capturing photos with dynamicity. Nikon is known for its high-quality shutters; thus, it gets an electronically controlled vertical-travel focus plane shutter with a speed range of 1/8000-30sec.
Whether you want to venture into action or wildlife photography, D7200 will be the ideal gear for these genres, and it is due to 51 focus points with 15-cross-type sensors. Moreover, with the 6fps continuous shooting, you can comfortably capture wildlife and fast-paced shots that other cameras won't give you.
Continuous shooting requires heavy-duty battery backup, and that is why it is geared with an EN-EL15 battery that offers 1110 images and 80min video shooting. Sharing pictures to your smartphone or laptop is easy with the Wi-Fi and NFC system, but you need first install the proprietary Nikon app.
Panasonic LUMIX DC-FZ1000M2
If you want to upgrade your photography gear arsenal with a top-notch DSLR, then adding Panasonic Lumix FZ1000 II would serve as the right decision. You can capture clear and detailed images with the help of its multistage iris diaphragm and f9.1 focal that works magically to get you the desired image quality.
What makes it more enjoyable? The ability to produce 4K photos with enormous color depth and excellent contrast. Besides, you can spice your photography skills with 4K burst shooting, 4K pre-burst, and 4K burst. The best part it has an intelligent 32x and 22.4x optical zoom that makes it also suitable for wildlife and sports photography.
When it comes to stability, Panasonic Lumix FZ1000 II doesn't compromise, and that is why it has a 5-axis hybrid optical image stabilizer and active mode to negate all handshake blur. Moreover, it comes with light-speed AF padded to a DFD technology that allows you to focus your object quickly.
The integrated focus stacking with post-focus mode gives you the freedom to adjust the focus point after shooting. We loved its high-speed OLED live viewfinder, which will help you get the perfect composition out of anything.
It is designed to give you an excellent shooting experience, so it packs a 1200mAh battery that offers 440 images on one charge. Not only that, but it also houses Wi-Fi and Bluetooth; thus, it becomes easier for you to transfer photos and videos wirelessly.
Wrap up on the best DSLR camera under $1000
We hope our list of best DSLR cameras under $1000 will guide you to the ideal that will cater to your requirement. This list is an outcome of a thorough examination by our team of experts, so we assure you the cameras are worth every penny you spend on them.
While choosing, you should be careful with your requirements because it will guide you to the most appropriate model. We have added varied models from different manufacturers so that you can have a lot of choices. Image quality, durability, and usability are top-notch in all the models; thus, rest assured that you will always have an enjoyable photography experience.
We have thoroughly given our thoughts about each product. So if you have any further queries, you can write to us, and we will get back to you immediately.
Camera Suggest is supported by its audience. When you purchase through links on our site, we may earn an affiliate commission. Learn more