Are you bored of flying large drones? Looking for a compact-size drone which does not only easy to carry but easy in the pocket too? Well, getting the best mini drone is the smartest thing you can do. They treat you with almost the same fun and performance as large drones but without making a hole in your pocket.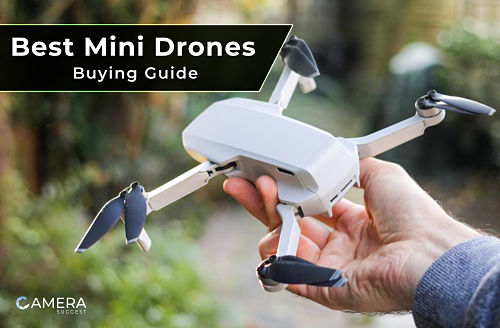 There was a time when mini-drones were mostly considered toy drones, and they weren't much use when it came to aerial photography. But the advancement of modern technologies and the demand for portable drones has given rise to some high-performance mini models that can match many hobby and professional drones.
Most importantly, they serve as a sweet spot between micro drones and hobby drones and offer you the best of both worlds.
However, not all mini drones perform like a pro or offer great aerial photography performance even if they belong to popular brands. So what are those models that will not only improve your flying skills but will also take excellent aerial shots? Well, you won't have to look anywhere else as our list contains all the top mini-drones currently available in the market.
Things To Consider Before Purchasing the Best Mini Drone
Finding the finest mini drone is not an easy job, even if you are a seasoned drone pilot. So here are some vital factors that will guide you to your dream mini drone;
Battery-

The battery backup is probably the most critical aspect of a drone as it indicates how long it can last in the air. Long battery life is significant to get the best out of your drone, but the ideal option you will get is between 20 minutes

and 30 minutes

. However, if you don't have proper flight time, then you get extra batteries to compensate for the lack of time.

Camera-

 A drone is not worth the investment if it doesn't come with a good camera. Full HD should be your main priority, but if it doesn't fit your budget, then you can also go for HD. Getting a high-resolution camera will impart better images with excellent color and clarity.

Gimbal- 

A gimbal has become an integral part of any drone as no one loves to record blurry aerial videos. Gimbal makes the camera steady and allows you to take smooth videos even if you are maneuvering rapidly. There are various gimbal types in the market, but you should stick to the 3-axis gimbal that offers the ideal smoothness. 

Motor- When you are getting a mini drone, always go for the brushless motor as they provide excellent performance and last longer than brushed models. Importantly the motor doesn't impart much sound which is helpful when you are recording videos.
Headless Mode- The headless mode in your mini drone will be beneficial if you are starting out with aerial photography. In this mode, the drone will fly according to the movement of your stick. This is a cooperative mode as it assists you in developing your flying skills.
Sensors- Having sensors like collision, altitude, take-off, etc. in your drone makes flying a fun and safe affair. It not only protects your drone from damage but also prevents it from getting lost. So make sure your drone has the right amount of sensors on its list.

Range-  

Although a mini drone doesn't have a vast range, it would be a smart move to get a drone that covers a considerable distance. Getting a good range will not only enhance your coverage but will spare you from frequent movement.

Modes- 

Make sure the mini drone should come with an adequate amount of modes, especially GPS, return-home, and follow mode. GPS is a vital part because it will guide you in the proper direction and let you know the surroundings. With different modes, your drone will automatically perform different moves without requiring you to do much maneuverability.

Durability- 

Never compromise on durability because a robust drone will prevent any damage from a sudden crash. Moreover, it enhances the longevity of the drone and allows counter strong winds.
Top 10 Best Mini Drones
Potensic Upgraded A20 Mini Drone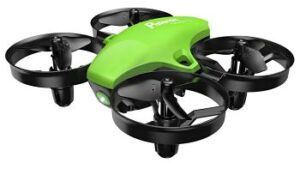 Potensic A20 is a highly rated mini drone that has amazed all the hobbyists with its incredible performance and competitive pricing. Even though it is a basic drone, but you will get headless mode, one key take-off/landing, and altitude hold, which will make your flying experience more fun.
You won't have to worry while gliding the drone close to the ground as the altitude hold will keep it from crashing Since beginners mostly use it so it comes with adjustable speed so you can modify the speed based on your control. The remote control is highly responsive, so maneuvering the drone at high speed won't be a problem.
In terms of safety, you will get emergency stop features that swiftly land your aircraft in crises. Geared with four round propeller guards, it protects the drone from any damage during any collision. We loved its portable design, and it easily fits in your pocket.
With a full charge, we flew the drone at high speed for prolonged 12 minutes, and we think that is more than enough at this price point. You will also get two rechargeable batteries in the package, which is a great advantage.
Pros:
Easy to carry.
It is simple to control for beginners.
Gets two rechargeable batteries.
Cons:
Can't handle high-speed wind.
HS170 Predator Mini Helicopter Drone
Undoubtedly, Holy Stone HS170 is one of the most excellent mini drones that has become a rage among enthusiasts. With a charge time of 45-60 minutes, it promises to stay in the air for 8 minutes, thus giving you enough time to test your flying skills.
Comfortably try different moves with its wind-resistance capability that keeps the quad-copter from steady and prevents it from crashing. What makes it more enjoyable? The ability to cover a range of 50 meters; meaning you can cover a considerable distance from one place.
Say goodbye to sudden signal loss to interference as its 2.4 GHz anti-interference technology ensures seamless connectivity.
Get an unparalleled flying experience with HS170's 6-axis gyro technology that allows you to do flip and roll and roll-in moves with a simple push of a button.
Moreover, the headless mode orient the copter in your direction, thus giving more confidence and better control over the drone's movement. The colorful LED lights on the drones make flying much easier by indicating the front and back areas.
The motor is ultra-responsive and gives you a three-speed option to have better control. The 0.55 lb bodyweight with the miniature body makes the portability a breeze.
Pros:
Highly responsive control.
It offers different moves.
Resistant to windy situations.
Cons:
Long charging time.
Poor motor assembly.
Syma X11 R/C RC Quadcopter
Syma X11 may seem like an underrated brand, but trust us, it will blow your mind once you get it in the air. Doing smooth flicks and rolls is always a fascination for drone flyers, and that is why it comes with 360-degree eversion that lets you have a completely fun experience.
Do flicks and tricks without much fuss as the 3D lock facility prevents you from losing control of the drone. However, the 6-axis gyro direction stabilizers make the main impact on the performance and allow you to have complete control over the drone's maneuverability.
The blades are entirely guarded by a protector that not only ensures safe flying but also enhances its anti-fall and anti-collision performance. Get a god's eye view with 2MP HD and record some stunning FPV-style shots for your Instagram page.
The response remote with a four-channel connection makes flying the drone much more enjoyable. If you fancy flying the drone at night, then its colorful flying light will assist you to quench your thirst with ease.
Just like every finest mini drone, it also gives an adequate flight of 8 minutes and a range of 30 meters without any signal loss.
Pros:
Durable construction.
Great precision and movement during flips.
Intuitive controller.
Affordable pricing.
Cons:
Cheerwing Syma X20 Mini Drone
If you are eyeing a budget mini drone that will immerse you in an exciting flying experience, then Cheerwing Syma X20 should be your target. It is an agile drone that does perfect 360-degree flips with just one press on the key, meaning you will have a lot of fun during flying.
The 6-axis gyroscope makes flying much more enjoyable as it lets you bring smoothness in your stunts by ensuring proper control. With headless mode, you can comfortably hover the craft in your neighborhood without getting confused with the direction.
The altitude hold mode, on the other hand, enables the projector to auto-hover in the air until you direct it to go down.
Kids can quickly fly this drone as the one-key take-off and landing facilitate easy flying without requiring any practice and skill.
You won't have to worry even if it gets out of control or runs out of battery, and the credit goes one touch-down function that will automatically land the drone.
The flight time of 5 minutes facilitates you to have a good drone flying session, but you need to invest 50 minutes in charging the drone. The fact that will surprise you the most is the 50-meter range, which is enormous for a mini drone.
Pros:
Fluidic flight performance.
Extremely competitive pricing.
An adequate amount of flying modes.
Responsive controller.
Cons:
DROCON Mini Drone for Kids
Drocon 901H is a meticulously designed mini drone that is built with a 220mAh battery to give you a wonderful 5min flight time. To treat you with the best flying experience, it flaunts many flying modes.
Altitude hold mode is the most popular in the lot that maintains the drone's height and position in the air without requiring you to operate the controller. With the three-speed mode, you can quickly learn to fly because it allows you to modify the drone's speed based on your controlling skill.
Once you master the control, you can do impressive 3D flips and rolls to make the flying session more enjoyable.
The headless mode makes maneuvering an easy affair; thus, you can precisely fly the drone according to the orientation of the controller. Say goodbye to the fear of losing the drone when the battery charge goes down as the one-key return safely brings back the drone to its origin.
What makes it interesting? The foldable design allows you to fold the drone and fit it inside the controller for easy portability. It has designed with complete safety, and the soft propeller guard with a secured battery slot serves as the primary proof.
Pros:
Impressive portable design.
Efficiently perform stunts without falling.
Effortless to operate and maneuver.
Cons:
EACHINE None Drone
From the house of the famous drone manufacturer, Eachine, we present you with the critically acclaimed E010. Designed with headless mode, this top mini drone glides in the air according to the direction of the controller rather than the direction it is facing.
By utilizing the three-speed control, you can start slow with low speed and gradually promote to medium and high speed when you feel that you can operate it proficiently. Perform 360-degree rolls and flips with a simple push of a button to spice up your flying time and amaze your friends.
The 2.4ghz controller ensures flawless connectivity at every range, even if you fly up to its 30m maximum range.
Stability is a crucial aspect of any drone, and that is why E010 employs 6-axis gyro stabilizers that prevent the drone from falling in any situation. Whether you are a beginner or a pro, the one-key return comes in handy when the drone gets out of your sight.
The circular propeller protection makes it safe and durable, especially among children, as it won't hurt if it suddenly falls. With a charging time of around 50 minutes, you get a 5min of flight time, which is justifiable at this price range.
Pros:
Inexpensive pricing.
Easy to do rolls and flips.
Durable and easy to carry.
Flawless connectivity.
Cons:
Altair AA108 FPV Camera Drone for Beginners
Take your photography skills to the next level with Altair AA108 which comes with an HD camera to facilitate you to record sharp and clear bird's view photos and videos. Unlike others, you can record unique videos by making insane moves with its FPV-style flying and stunning everyone.
The 120-degree wide-angle view allows you to take great aerial shots that will surely make your travel blog more interesting. With three skill levels ranging from beginner to advanced, you will gradually grow your skills by flying this drone.
Taking off the flight from the ground is tricky for rookies, but it treats you with one-touch take-off, meaning drone flyers of any skill level can quickly launch it.
With headless mode, you can confidently fly the drone and try different FPV moves without losing the sense of direction. While flying, you can take time to try your next move as the altitude hold will facilitate the drone to hover in the air without requiring any stick movement.
You can enjoy the FPV flying session for 7-10 minutes with a full charge, and you will have another spare battery if you wish to fly more. Carefully built with premium plastic, you can fly without any worry as it can withstand crashes.
Pros:
Wide range coverage.
Stunning image and video quality.
Effective FPV flying.
Stylish and durable design.
Cons:
SNAPTAIN SP650 1080P Drone
With a full HD camera, Snaptain SP650 serves as one of a kind mini drone that gives you incredible and clear aerial photos and videos at 25fps. Take Instagram-worthy aerial photos with its 120-degree field of view that covers a wide from the top.
With a video transmission range of 60m, you can record some incredible videos of your travel destination from one place. Based on a 1000mAh battery, it gives you a fantastic 12min flight time, but unfortunately, it will take 2hrs to get fully charged. It gets SD card support up to 64GB, which is adequate for making a long full HD cinematic video.
SP650 pampers you with spectacular flying moves like high-speed rotation, 360-degree flip, circle fly, and trajectory flight, thus giving you enough options to create unique travel videos.
Flying this drone is an effortless job as its headless mode, one-key take-off/land, and altitude hold makes everything easy for you. Forget about losing the drone at a great height and safely bring it back to you by pressing its return key.
Besides regular apps and remote operation, you can even control the app with gesture, gravity, and voice control, which makes it an exclusive device.
Pros:
Crystal clear full HD images.
Excellent flight time.
Intelligent controls and modern modes.
Cons:
It doesn't come with an SD card.
You can't remotely adjust the camera.
Contixo F22 Plus Foldable GPS Drone
Being an FPV-style drone with GPS and full HD recording, Contixo F22 not only delivers an impressive flying performance but also stands out in this list. With GPS, you get to explore intriguing features like the point of interest, auto return home, GPS follow me, and custom flight paths.
The follow-me and point of interest come in handy to make fresh videos as the first one allows the drone to follow you while the latter makes the drone circle you. Besides, you also get the standard modes like headless mode, auto-hover, and one-key take-off/landing.
The best part is that you get to utilize all these modes while flying in FPV, which makes the experience much more scintillating.
Despite all these fascinating features, F22's 20-minute flight time impressed us the most as you usually get this flying time in high-end drones.
You will be thrilled with the video quality that the 90-degree vertical adjustable 1080p camera has on offer, and it retains full HD transmission even during FPV flying. To take some exciting selfies, you can take the assistance of the gesture control that takes cool photos.
It is a foldable drone with a portable design and comes with a carrying case, so taking it to different travel destinations won't be a problem for you.
Pros:
Best-in-class flight time.
It is loaded with all modern features.
Totally value for money.
Effective GPS positioning.
Cons:
DJI Spark, Portable Mini Drone
DJI Spark is a legendary mini drone that has impressed many people with its flying performance, durability, and various modern features. Making use of a 12MP camera and 2-axis mechanical gimbal, it gives you buttery smooth and detailed full HD videos that you will hardly get in any mini drone.
Experience fun while flying this drone because you can utilize the TapFly, ActiveTrack, quick launch, and gesture control that lets you shift from general moves. However, you can have only for a short time because it only gets a 16min flight time.
The innovative HD Wi-Fi transmission technology not only treats you with seamless connectivity but also 720p real-time transmission. Whether you are flying near the sea or in the mountains, Spark's powerful propulsion and aerodynamic design with a sleek body will keep the drone stable even against strong winds.
You can switch from regular to sports mode to immerse yourself in a breathtaking FPV experience as it starts maneuvering like a professional drone. It is designed with optimum safety that not includes a propeller guard but also flight autonomy, return home function, intelligent battery, obstacle avoidance, and flight protection.
Pros:
An impressive set of flight modes.
Durable construction with an aerodynamic design.
Sharp and detailed video output.
Smooth movement.
Cons:
It is quite loud.
The battery life could have been better.
Check out the Fastest Drone from DJI:
DJI FPV
Tips To Fly Drones
Flying drones requires a lot of practice and precision, and you can't learn it overnight. Here are a few tips that will help you out if you are diving into this hobby;
Before taking the drone out, you should learn how you can perfectly land and hover the drone.
When maneuvering the drone, be gentle with the stick as they are highly sensitive, and it will be difficult to control if you push hard. You can opt for finger-style operation to get better control and precision in your movement.
While flying the drone, try to look at the screen rather than gazing at the drone because it will allow you to master the control.
Once you learn the basic movement, take it to an open area, and practice your moves. You can try out different modes but avoid doing flips in the beginning.
Practices with the drone regularly because drone flying is a lengthy learning curve.
Crashes are part and parcel of this hobby, so store some extra parts, especially propellers in the kit bag.
Always purchase two to three extra batteries because most of drones have reduced flight time.
Save some extra cash because you might need them to repair your drone.
Conclusion
We wrap things up by saying that this list of top mini drones will be beneficial for you to find the ideal drone. After thorough testing of all the mini drones, we came forward with these most elegant models that are destined to give you an exhilarating flying experience.
We have covered drones from all sorts of price ranges, thus giving you enough choices. Whatever your flying skill is, all these drones can be easily flown without requiring much prior practice.
So we hope this guide will assist you in narrowing down your choices for the best mini drone. We have even included a buying guide that will come in handy during evaluation.
Camera Suggest is supported by its audience. When you purchase through links on our site, we may earn an affiliate commission. Learn more