Is DJI FPV the future of FPV drones?
There is no reason to doubt one of the most groundbreaking developments in the content creation platform has to be FPV (First Person View) drones. FPV drones stand for maneuverability and agility. It tends for way more maneuverable, which can go upside down and turn much faster and sharper than a regular drone can. These are tremendously capable drones that allow you to fly at top speeds, rotate and flip in the perfect direction, and free-fall at terminal velocity.
So finally, the moment has come, this is, DJI FPV Drone.
We have been waiting for years for this, and I think we knew that it was coming when they released their digital goggle and controller almost two years ago.
Now, you must be thinking, why would I go with the DJI FPV drone when I have a DJI Mavic (series). Well, Mavic has a three-axis gimble, and it takes a super cinematic shot, but if you are looking for the rush of adrenaline for that sport, then you must go for DJI's FPV drone.
For now, take a moment for the best mini drones that you don't need a license to fly for.
Unlike other classic drones, DJI FPV has changed the era of FPV. There are lots of issues we have been facing with old drones. For that, we spend tons of time troubleshooting and figure out why things aren't working and fix them. As well as understanding the basic knowledge of batteries to charge and discharge them, to use flight controllers you need third-party components and third-party software to get the whole system to work. But, DJI FPV has changed the game completely.
We will talk about the best features of this drone as well as good and bad things. Also, you will get the answers to your most asked questions, such as; why DJI FPV is a racing drone? Is this the new age of cinematography? The perfect all-in-one drones? Etc later in this article of DJI FPV drone review.

These are the best features that DJI FPV makes different from the other simple drones and classic FPV drones.
[lwptoc]
---
12 Things to Know About DJI FPV Drone
Intuitive flight modes
DJI FPV offers three spontaneous flight modes that let anyone fly confidently from the beginning. You will not be able to fly this FPV drone in only Manual or Acro mode. You can also fly this in Normal and Sport mode, just like any other DJI drone that you're already used to flying. It is unnecessary to switch between the different modes because if you feel trouble while flying in the Manual mode, you can easily switch it back to Normal mode, and the drone will hover like a regular DJI drone. This is an amazing safety feature.
There are three modes in this drone: 'M' or Manual, 'S' or Sports, and 'N' or Normal. These modes are designed in such a way that beginner can also fly it
DJI FPV Speed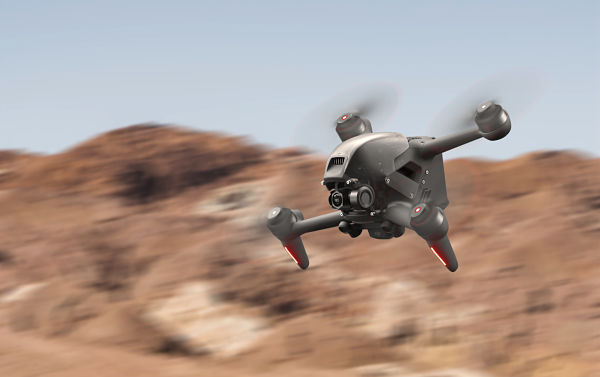 However, we have the fastest drone ever called DRL Racer X this is the fastest drone from DJI. The DRL Racer X has achieved the Guinness World Record for the fastest drone during the drone racing league, and the recorded maximum speed is up to 179 mph.
With the sleek and aerodynamic design of DJI's FPV drone, you can reach a maximum speed of 140 kph (87 mph) in manual mode. You can fly up to 97 kph (60 mph) in sports mode and 50 kph (31 mph) in normal mode.
One of the best things about this drone that I like the most, it can accelerate from 0 to 100 kph in just 2 seconds, which is extremely faster than sports cars such as Bugatti, Ferrari, and Lamborghini, etc.
DJI FPV Battery Life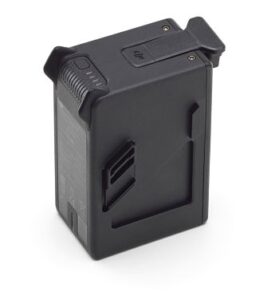 If you are aware of the old FPV drones, you must have known about their battery life. DJI has managed to make this drone's maximum flight time 20 minutes which is a massive step forward in the world of FPV which is up to 400% than classic drones. Don't worry about returning the drone to the ground after only a couple of minutes of flight time. So, I think this is an exciting feature for content creators or cinematographers.
Camera Movement
Unlike traditional FPV drones, you are able to change the pitch of the camera directly from your remote in DJI FPV. It is very beneficial for the pilot because, in FPV, the angle at which your camera is set, directly determines the speed at which you'll be flying.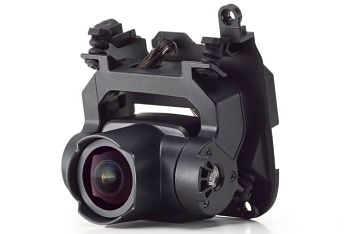 Let's, understand in-depth.  
If the camera angle is zero degrees, then the drone will be in the normal position at that time, the horizon will be centered in your goggles. So, the thrust from the drone is only going down causing it to stay in one place. If we tilt the camera to about 45 degrees, we can see that the drone needs to be tilted opposite 45 degrees of the camera, in order to center the horizon in our goggles. After this step, it's going to be moving forwards because of the way the props are angled. To conclude, the greater the tilt of the camera the faster the drone will move in a forward direction.
Now you don't have to physically bring the drone back down to the ground and change it by hand. The DJI has made this easy for us.
DJI FPV Goggles V2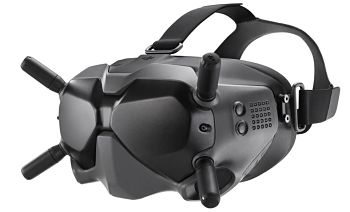 DJI has taken big moves making FPV so much more immersive and fun with this DJI FPV Goggles V2, which provides you crystal clear live view with different latency.
You can simply change the camera settings in your goggles, as well as the shutter speed and ISO. You're also able to record both internally on the drone as well as on the goggles. I think this is a great feature because if anything happens to your drone, you can have a copy of the file directly on your goggles.
Two latency levels transmit the video from the drone to goggles; 120 fps at 28 ms and 60 fps at 40 ms. There is no chance to lost the connectivity with the drone. It can send HD video up to 50 Mbps to the goggles within a video transmission range of 10 km.
DJI FPV Remote Controller 2
DJI comes with a brand new remote controller that is much smaller and lighter than its first model. One most important change they have made is the ability to unscrew the joysticks, which allow you to pack up the remote without having concern about the joysticks getting damaged.
When you hold the remote, you will feel that you are playing a PlayStation, which also gives you the option to optimize the resistance of the joysticks by turning the screws that are hidden in the back of the remote. On the left side of the remote, you can get the scroll wheel, which allows you to change the pitch of the camera as well as the emergency brake and hover button, and then return to the home button, which is unique and useful features.
Flight Pause / RTH Button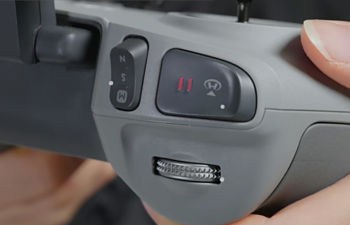 On the upper left side of the remote, you can have a button that allows you to emergency brake and hovers.
Now, this is a completely new and craziest thing for the drone pilot or drone, right? When the pilot presses this button, it'll come to a stop and hover in one place. It's important to keep in mind that the faster you're going, the longer it will be going to take for you to stop and float. For example, if you're flying at top speed, it's going to take you a second to stop and hover.
I believe this is a vast feature. Because if you feel you are in a tight situation and you have no idea what to do, you can just hit that button and allow the drone to stop and hover in one place.
Autoland and Auto Takeoff
If you are a beginner or an average-level drone pilot, you must have known that one of the hardest skills to master is precisely landing in one place. But with DJI FPV, you can land with no trouble, very accurately wherever you want, without spending a ton of time practicing precision landings with any mode. While it has Obstacle Avoid Sensors, it will not avoid obstacles in RTH mode, but you can press the stop button anything you want it will land safely.
DJI Motion Controller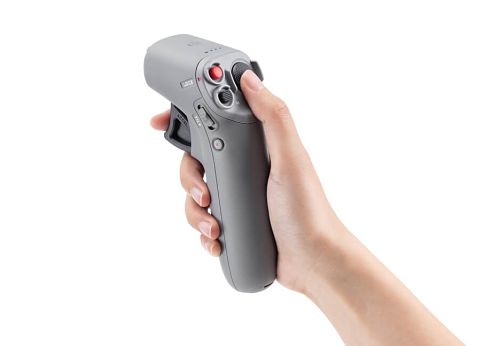 DJI has come out with this one-handed motion controller, but it won't come with a stock kit. For that, you will have to spend couple hundred bucks. Most people have never used anything like this before. SO, it will be an amazing experience for drone lovers.
It takes 10 seconds to connect with the drone, and you are up! To start the drone, double-click the red button and then hold the red button to get the drone to take off and hover at 1.2 meters. After that, you can control the drone by moving the controller left and right and pull the trigger to accelerate.
It has some limitations that you won't be able to use this controller for full Manual mode. You are only allowed to use this motion controller in the 'N' or 'S' mode.
The DJI Virtual Flight App
DJI has released a simulator that allows you to fly this flight virtually before you go out and crash it. The idea behind of this is everyone starts learning FPV in a simulator, practice dozens of hours then go outside and fly without crashing because we know how tough it is to fly FPV and understand the controls.
The DJI Fly App
One of the best things that I am excited about about the DJI is DJI Fly App. You can find Health Management System (HMS) in the app, which can use to sense and analyze the units that need to be repaired or replaced on your drone. This is unquestionably game-changing for the world of FPV.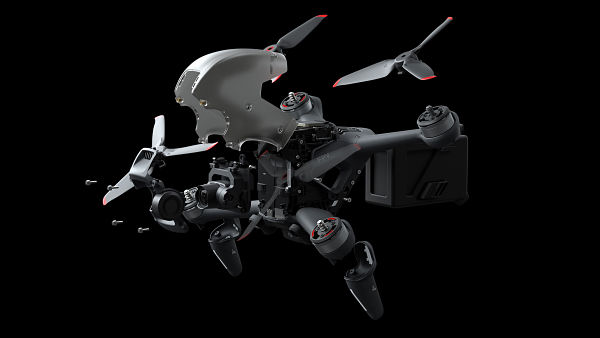 With this app, you are allowed to scan the drone and figure out what parts might be damaged or wrecked, so you can simply just order the specific parts that you truly need.
Earlier, we'd have to spend a lot of time troubleshooting and testing different parts in our drone to figure out which part has broken, and what needs to be fixed or replaced. We would just send our drones to a specialist to get them fixed. Now, In the busy world, nobody has that extra time to waste. So, this is an amazing step from DJI, right?
DJI has designed this drone in a special way that lets you replace a lot of mechanisms very easily.
DJI FPV Price
The kit comes with three core parts, drone, goggles, and remote controller at the price of $1299. The motion controller is not part of the stock kit. To buy a DJI motion controller, you have to spend $199.
We know this is quite a big investment compared to other existing drones such as Mavic drones and any others. But I think it offers great values with an amazing experience, unlike any other drones.
You can check out the price, full specification, and more information about this drone on the DJI website.
In short,
These are all amazing advancements, and I am eager to have DJI FPV as part of my filmmaking gear. I am pretty impressed with this drone, and I am excited to see the future of FPV. This can be the perfect drone for you if you're someone who has been wanting to get into FPV, but it just looked too complicated and too hard to get into this.
Is it worth buying a DJI FPV drone?
Honestly, it depends on what you plan to do with it. If you are coming from traditional FPV drones, you will probably consider this for few reasons. First, you would never get an FPV experience like this at this price. Second, It has a lot of safety features to keep you from ideally killing it as long as you understand the baseline things. If you are experiencing the FPV and making a lot of cinematic shots, then you must find great value in stabilization, video resolution with 4K 60 fps, and battery life, that you would not find in normal FPV.
Camera Suggest is supported by its audience. When you purchase through links on our site, we may earn an affiliate commission. Learn more