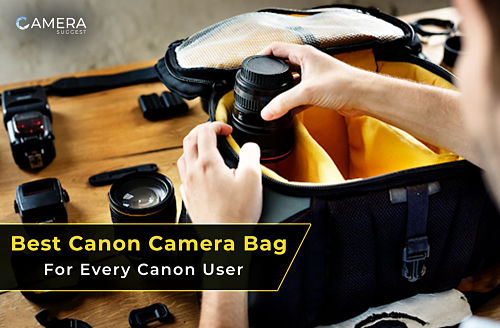 Just like cameras, choosing the best canon camera bag is also a very tough task. There are various kinds of camera bags, each with some specific specifications and design details. The moment you decide to purchase a camera bag, you will be spoiled for choice.
If you own a basic point and shoot camera, a small camera bag will do the job for you. However, you are carrying a large DSLR with extra lenses, batteries, and other accessories, you will need a camera bag with various compartments.
To make your choice extremely easy and quick, we have curated a guide to the best camera bags that are currently available in the market.
---
10 Best Canon Camera Bags
AmazonBasics Large DSLR Camera Gadget Bag
This particular DSLR camera bag is a must-have for every camera lover who has various camera accessories and heavy lenses. Amazon has designed this bag keeping in the needs of every camera lover, and it is a perfect camera bag regardless of the model you use.
With this camera bag, you don't need to worry about leaving your tablet, Kindle, or eReader at home, and you can put it inside the tablet compartment. Also, there are additional small compartments where you can keep other necessary items.
We liked the fact that the bag comes with separate slots for iPad mini, Amazon Kindle, and Google Nexus 7. Another advantage of selecting this particular camera bag is that it comes with a customizable padded interior. The movable dividers help in optimal usage of the storage area.
If you are someone who carries camera accessories, the exterior strap will be beneficial for you. It helps in securing tripod and other bulky camera accessories. You can carry a DSLR body along with 3 lenses. You can adjust the straps of this bag, they are heavily padded as well. You will feel no discomfort while carrying heavy camera gears while using this bag.
Canon Shoulder Bag 100ES
Canon is a well-reputed camera brand, and their camera bags are equally great. This bag is designed to provide users with enough room to store their camera gears along with the camera body, lens, and other camera accessories. If you own Canon Rebel T6i and are looking for a decent camera bag, this is perfect for you. Our Canon Rebel T6i fits perfectly inside this particular camera bag. Also, the middle divider of the camera bag can be adjusted and removed to improve the space inside.
The strap is extremely sturdy, which means you don't need to worry about breaking your camera and other equipment. You can easily carry your camera and gears in this bag to a 5-6 days mountain trek. The canon camera bag comes with plenty of rooms for your DSLR and an extra lens. The padding is good, and we liked the hard plastic reinforcement present at the bottom of the bag. However, the disadvantage of purchasing this bag is that it doesn't have a zipped pocket. Not having a zipped pocket means your memory cards are not safe; your card can fall from your bag, which might lead to data loss.
Canon 200DG Digital Gadget Bag
This particular camera bag is designed to carry an SLR digital camera. If you are a genuinely photography lover and like to carry more than just one camera, this is perfect for you. When we saw this Canon camera bag for the first time, we were very skeptical about the fact that the camera bag has very small and has space for only one camera. However, we were able to fit in two SLR camera bodies, three camera lenses along with accessories. The bag is made of durable and rugged nylon material and is also water-resistant at the same time. It comes with lids on both sides that are sealed with velcro. The lid of the bag ensures that no water seeps inside.
The design of this particular bag is unique, and the hardware used is of high quality. You will surely notice that the bag is the padding used in this bag is of high-quality. Your camera lenses will entirely safe inside this heavily padded camera bag. The bag comes with a dual carrying handle with strong stitches at multiple places.
Canon 100DG Digital Gadget Bag
If you are planning to purchase a new camera bag which has more space, this one is perfect for you. This particular can easily fit Canon EOS Rebel T3 along with two more lenses. With this camera bag, you need not worry about any weather conditions. The bag is made using water-repellent nylon and ensures that your belongings are completely safe inside. The interior of the bag is nicely padded, and all pockets are easy to access at the same time. The bag also comes with a laptop slot that can be used for multiple purposes, depending on your needs.
We were able to fit in several pens and a few lens filters in the front pocket. Also, there is a mesh compartment for keeping other necessary items. In the mesh pocket, we were able to fit in extra lens covers and some cables. There is a pocket on top of the cover and another behind the bag. It is one of the most spacious canon camera bags that is available in the market currently. We have also noticed that the stitching is also very solid. The best thing about the bag is that it comes with a color-coded media case which helps in organizing all your cards and CDs neatly.
AmazonBasics Convertible Rolling Camera Backpack Bag
If you are looking for a camera bag that is spacious and easy to carry around, this is perfect for you. This particular bag is large and has wheels. It can be easily converted to a rolling suitcase from a backpack. We were able to fit in one DSLR body with attached lens, chargers, batteries, filters and more. The backpack comes with adjustable and padded shoulder straps that ensure maximum comfort to the user. The storage space is exceptionally innovative and different from other similar camera bags. The bag comes with 11 additional compartments apart from the main compartment. All the separate compartments are perfect for storing other necessary camera equipment.
The handle present on top of the bag extends very easily, and you can then easily carry the bag everywhere around with you. If you want, you can also choose to collapse the handle and make the bag compact. The handle is rugged as well, which lets you have a secured grip. Furthermore, Amazon provides a rain cover that will protect the bag along with all your equipment inside it.
Lowepro ProTactic BP 450 AW II
Having a good backpack is essential for someone who travels a lot for photography and video shoots. In this bag, we were able to fit in a full-frame camera along with some necessary equipment. We checked and found that the bag is exceptionally spacious, and one can fit in everything that is needed for a photoshoot. We also found the build quality of the bag is excellent and will inevitably not fail to impress any user. We used the bag for a week to check the built quality. To our surprise, even after putting too many gears inside the bag, the zipper did not break.
The size of the bag is perfect; it is not very small and not very large at the same time. You can easily fit in inside the overhead compartment of an airplane. The bag comes with a movable panel that allows space management. You can customize the space inside the bag according to your needs. The bag is designed in a way that it will not catch people's attention. However, the bag does not come with a rain cover which is a disadvantage of going for this particular bag.
Billingham 445 Camera Bag
This particular camera bag by Billingham is not only stylish but is spacious at the same time. Unlike most camera bags, this one doesn't lose its shape when you pile equipment inside it. With this bag, you can keep all your belongings organized and protected at the same time. The bag is easy to carry, the straps are incredibly sturdy and can take the heavy load of a DSLR camera body along with a few lenses and other camera equipment.
You can adjust the delta shoulder strap according to your liking. The strap also comes with a neoprene SP15 shoulder strap which makes carrying heavy equipment easy.
The company manufactures this particular camera bag in three different color variants, namely, black, khaki and sage. The hardware used is of high quality. The bag comes with a two-way garb handle which lets the user hold the bag even if the flap is open. For any photographer, carrying a pen for notes is always a good idea. You can easily fit 2 DSLR bodies along with 3 additional lenses, flashlights, and other necessary equipment. The canvas used for this bag is waterproof; hence you carry it around even when it is raining heavily.
Pelican 1510 Protector Carry-On Case
For any photographer, it is always an excellent choice to go for a waterproof camera. This particular camera bag by Pelican is completely watertight. Whether you are caught in heavy rain or out in the sea beach for a shoot, with this specific camera bag, your equipment will surely be safe. The camera bag is made out of stainless steel hardware which is one of the most protective cases for a camera.
The manufacturer of the camera bag was quite acquainted with the fact that not every camera is similar and not everybody has the same equipment. We were able to customize the camera case according to our needs depending on the camera body we were trying to fit. Professionals trust the brand and many people like the versatility and innovation used in designing this bag.
Billingham Hadley Pro Shoulder Bag
This particular camera bag is available in six different color variants. It is perfect for someone who is looking for some colorful bags apart from those dull tan, black, or brown bags. We found the canvas used for manufacturing this particular bag extremely good. The bag is waterproof, and you can easily fit in one camera body, one lens, and a few other camera accessories. One of the best things about this particular bag is that it comes with a handle on top, which makes it easier to carry. We also noticed two pockets that snap close, and they are hidden when you close the bag with straps.
We loved the green removal padded velcro that comes with the bag. It helps you to configure the bag according to your needs. With the padded velcro, we were able to create a customized pocket for one of our lenses, which in turn helped us to create space for another lens that we had. We were able to fit in our iPad inside the zipper pocket that is available on the back of the bag. If you own a small-sized laptop, you will probably be able to fit that as well inside that pocket.
Lowepro Passport Sling II Camera Bag
We have been trying out this bag for more than 24 hours and according to some of our team members, it is one of the best camera bags that is currently available in the market. We were able to fit in our Fuji X-T1, a 35MM lens along with a 50-230 lens. We were able to pack a camera body, two lenses, a wallet, a charger, and a kindle. Also, the extra pocket in the bag allowed us to store food.
You will get this particular camera bag in three different color variations. After using the camera bag for one day, we can say that it is perfect for everyday usage and can also be carried on a trip. Some users have even complained regarding the outer pocket, however, I personally find the outer pocket very useful for carrying extra necessary items. The bag is exceptionally sturdy and is made using solid material. The straps of the bag are pretty long and sturdy just at the same time. Overall, this bag is perfect for someone who is looking for a camera bag under $150.
Manfrotto Pro Light Reloader Switch
Purchasing the right case for your gears is very important. This particular camera bag by Manfrotto is designed and tested in the laboratory to ensure that it provides the protection needed for your accessories. Also, the bag comes with shock resistance which makes it different from other similar bags that are available in the market. For any photographer carrying a tripod is a must and this bag comes with an option to connect your tripod externally. The look of the bag is very different from most camera bags that are available both online and in the market these days.
We found the dividers that come with the bag extremely useful. We were able to create customized space for storing our gears properly inside the bag. For instance, you can make a different size compartment depending on the lens you are carrying on that particular day. The company also provides a fold-out protector which when installed helps in creating a protective layer for the equipment inside. The fabric used for making this bag is water-resistant which makes it ideal for any weather. This bag is perfect for travelers who love clicking pictures. Compared to most other bags mentioned in this list, this one is made using more sturdy fabric.
---
Final words on Best Canon Camera Bag
These are some of the best camera bags that are available both online and in local stores. We have included some of the best canon camera bags along with some other good camera bags from other well-known brands. These bags are tested by us and there's no reason to buy any.
Must Check
Camera Suggest is supported by its audience. When you purchase through links on our site, we may earn an affiliate commission. Learn more